NVIDIA GeForce 7800GTX Linux Preview

Late last month, NVIDIA unveiled their new GeForce 7XXX series by releasing the 7800GTX (codename: G70). As of yet NVIDIA hasn't populated the GeForce 7 series with any other graphics cards except for the 7800GTX, but it's only a matter of time before the new series becomes proliferated with such cards as the 7800GT and 7800 Ultra. We expect these new cards to be released similar to what had happened with the GeForce 6XXX series where the 6800 Ultra was released first followed by the 6800GT, 6800, 6600GT, 6600, 6200, and the 6200 Turbo Cache. Of course, we suspect NVIDIA will hold off on releasing any of these faster cards, with the possible addition of 512MB video memory, until the ATI R520 VPU is released. As the NVIDIA GeForce 7 series aggregates over the next few months, we'll definitely have some more in-depth coverage of the different VPUs, but today we're having a look at NVIDIA's current flagship solution, the 7800GTX. In this article, we'll be sharing some of our initial Linux experiences with the NVIDIA GeForce 7800GTX 256MB. Although many other publications have found the 7800GTX to perform magnificently, we actually found some dissenting results in our Linux testing.
NVIDIA CineFX 4.0 Shading Architecture
Vertex Shaders
· Support for Microsoft DirectX 9.0 Vertex Shader 3.0
· Displacement mapping
· Geometry instancing
· Infinite length vertex programs
Pixel Shaders
· Support for DirectX 9.0 Pixel Shader 3.0
· Full pixel branching support
· Support for Multiple Render Targets (MRTs)
· Infinite length pixel programs
Next-Generation Texture Engine
· Accelerated texture access
· Up to 16 textures per rendering pass
· Support for 16-bit floating point format and 32-bit floating point format
· Support for non-power of two textures
· Support for sRGB texture format for gamma textures
· DirectX and S3TC texture compression
64-Bit Texture Filtering and Blending
· Full floating point support throughout entire pipeline
· Floating point filtering improves the quality of images in motion
· Floating point texturing drives new levels of clarity and image detail
· Floating point frame buffer blending gives detail to special effects like motion blur and explosions

NVIDIA Intellisample 4.0 Technology
· Advanced 16x anisotropic filtering (with up to 128 Taps)
· Blistering-fast antialiasing and compression performance
· Gamma-adjusted rotated-grid antialiasing removes jagged edges for incredible image quality
· Transparency multisampling and transparency supersampling modes boost antialiasing quality to new levels
· Support for normal map compression
· Support for advanced lossless compression algorithms for color, texture, and z-data at even higher resolutions and frame rates
· Fast z-clear

NVIDIA UltraShadow II Technology
· Designed to enhance the performance of shadow-intensive games

NVIDIA SLI Technology
· Patented hardware and software technology allows two GPUs to run in parallel to scale performance
· Scales performance on over 60 top PC games and applications

NVIDIA PureVideo Technology
· Adaptable programmable video processor
· High-definition MPEG-2 and WMV9 hardware acceleration
· Spatial-temporal de-interlacing
· Inverse 2:2 and 3:2 pull-down (Inverse Telecine)
· 4-tap horizontal, 5-tap vertical scaling
· Overlay color temperature correction
· Microsoft Video Mixing Renderer (VMR) supports multiple video windows with full video quality and features in each window
· Integrated HDTV output

Composited Desktop Hardware Engine
· Video post-processing
· Real Time desktop compositing
· Accelerated antialiased text rendering
· Pixel shader driven special effects and animation

Advanced Display Functionality
· Dual integrated 400MHz RAMDACs for display resolutions up to and including 2048 x 1536 at 85Hz
· Dual DVO ports for interfacing to external TMDS transmitters and external TV encoders
· Full NVIDIA nView multi-display technology capability

Advanced Engineering
· Designed for PCI Express x16
· Designed for high-speed GDDR3 memory

NVIDIA Digital Vibrance Control (DVC) 3.0 Technology
· DVC color controls
· DVC image sharpening controls

API Support
· Complete DirectX support, including the latest version of Microsoft DirectX 9.0 Shader Model 3.0
· Full OpenGL support, including OpenGL 2.0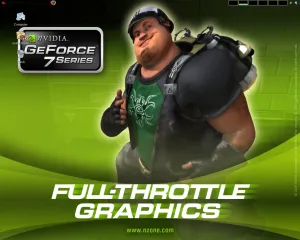 Unlike past NVIDIA cards, along with other ATI and XGI graphics cards, where Linux users had to wait weeks for 3D support, the same wasn't true for the 7800GTX. On June 22, 2005, the day of the public 7800GTX launch, Linux users were fortunate enough to receive the new NVIDIA 1.0-7667 driver set. Although we didn't see much frame-rate improvement from these new drivers, when we posted our 1.0-7667 results that day, we were informed of the immediate support for the 7800GTX. This support was definitely welcomed by the Linux community, and we hope this trend can definitely continue with future NVIDIA releases. Although these drivers do support the 7800GTX, as displayed later on in this article, it's performance may share a different story.