We Rely On Your Support: If you would like to support Phoronix this holiday season, you can enjoy our Black Friday / Thanksgiving sale... Phoronix Premium is available at a discounted rate for the rest of November. Learn more with the The 2020 US Thanksgiving / Black Friday Phoronix Premium Special. Happy Holidays!
Ubuntu 18.10 Performance Is Looking Up, But Clear Linux Still Leads In Many Tests
With less than one month until Ubuntu 18.10 "Cosmic Cuttlefish" releases, I have begun my usual benchmarking dance in checking out how the Ubuntu performance is looking to its current release, in this case the Ubuntu 18.04 LTS "Bionic Beaver". Our first performance look at Ubuntu 18.10 is with a mix of seven Intel and AMD desktop systems while using Ubuntu 18.04 LTS with all updates, Ubuntu 18.10 in its current near-final form, and using Intel's Clear Linux as a gold standard reference with it generally offering the leading out-of-the-box Linux x86_64 performance of major distributions.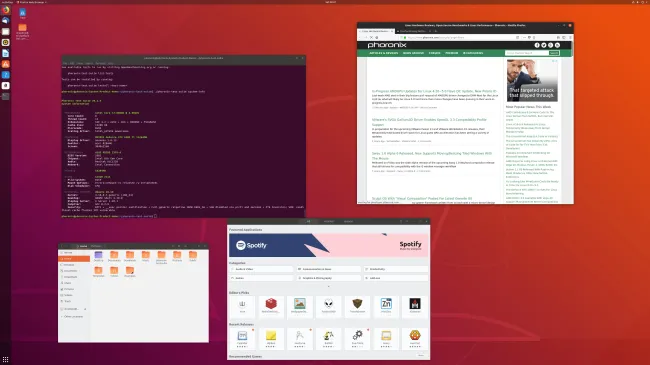 The seven systems tested for this comparison were an intentional random mix of lower-end and older to high-end hardware for getting a broad look at the direction of Ubuntu 18.10 performance. The hardware platforms tested for this comparison were:
Intel Core i5 7600K - The Kabylake system with Gigabyte Z270M-D3H motherboard, 8GB of RAM, and HD Graphics 630.
Intel Core i7 5960X - The once mighty powerful Haswell Extreme Edition system with ASRock X399 Extreme3 motherboard, 16GB of RAM, and FirePro V7900 graphics card.
Intel Core i7 8086K - The current-generation Coffeelake CPU with ASUS PRIME Z370-A motherboard, 16GB of RAM, Radeon RX 580.
Intel Core i9 7980XE - The high-end current-generation i9-7980XE 18 core / 36 thread CPU with ASUS PRIME X299-A motherboard, 16GB of RAM, GeForce GTX 1060.
AMD Ryzen 7 2700X - The current Zen+ desktop CPU with ASUS ROG CROSSHAIR VII HERO motherboard, 16GB of RAM, and Radeon R9 Fury.
AMD Threadripper 2950X - The 16-core / 32-thread AMD HEDT system with MSI MEG X399 CREATION, 32GB of RAM, and GeForce GTX 1080.
AMD Threadripper 2990WX - The 32-core / 64-thread monster with ASUS ROG ZENITH EXTREME, 32GB of RAM, and Radeon RX Vega 56.
Again, the systems aren't intended for comparing the performance inner-system but seeing how Ubuntu 18.04, Ubuntu 18.10, and Clear Linux compare on a broad spectrum of x86_64 systems. All of these systems were tested using a Crucial MX300 SATA 3.0 525GB SSD.
Ubuntu 18.04 - As a reminder, this current LTS release has the Linux 4.15 kernel, GNOME Shell 3.28.3, X.Org Server 1.19.6, Mesa 18.0.5, GCC 7.3.0, and EXT4 file-system as some of the leading components.
Ubuntu 18.10 - Ubuntu 18.10 moves up to the Linux 4.18 kernel, GNOME Shell 3.30.0, X.Org Server 1.20.1, Mesa 18.1.5 built against LLVM 6.0, GCC 8.2, and EXT4 file-system.
Clear Linux - Intel's rolling-release distribution was tested with Linux 4.18.6, X.Org Server 1.20.1, GNOME Shell 3.30.0, Mesa 18.3-devel, GCC 8.2.0, and EXT4 file-system... Quite similar main components to Ubuntu 18.10. It is worth also pointing out Ubuntu 18.10 is still on Python 3.6 while Clear Linux has Python 3.7.
The tests in this article are mostly focused on overall system/CPU performance while there will be Ubuntu 18.10 tests coming up looking at the graphics performance, server performance, and other areas.