What's Going On With Iveland & OpenBenchmarking.org
With OpenBenchmarking.org, we are finally beginning to tap and expose the statistical data that can be optionally reported by users running the Phoronix Test Suite for a few releases already. There is quite a lot of data already building up. Pardon the colors and such of these initial graphs, the OpenBenchmarking.org theme and visuals are not yet done.
This data will be exposed in a variety of ways that the user can manipulate and view. Hardware and software metrics can also be broken down to be reported over a period of time. The hardware and software statistics for Linux and other operating systems should be far more useful and interesting to parties than our annual graphics surveys.
The intended distribution for most of the data on OpenBenchmarking.org will be available via a Creative Commons license. There will also be APIs in the future to further extract and manipulate the data visualizations.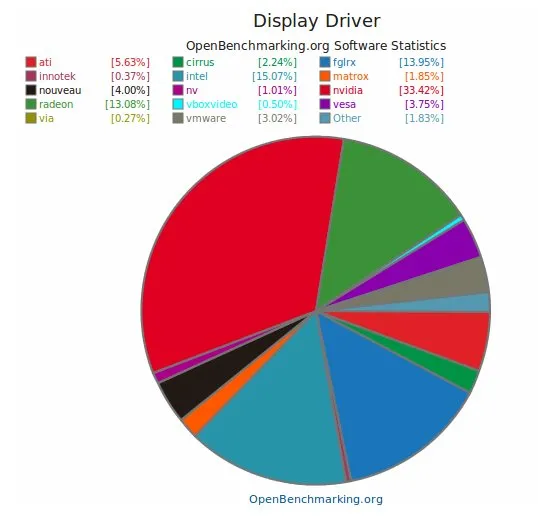 All of these graphs will also be interactive like with the results data. Plus many more features to come.
There is also statistical data on the Phoronix Test Suite itself to make benchmarking more social and to further motivate community testing and collaboration.
This is still just the tip of the iceberg in terms of the features coming to the Phoronix Test Suite and OpenBenchmarking.org next year, so stay tuned for more articles. Phoronix Test Suite 3.0 Alpha 1 was released last week and a second alpha with many more changes should be released in the coming days. Your comments and feedback are welcome whether you are an individual or enterprise user.