We Rely On Your Support: This site is primarily supported by advertisements.

Ads are what have allowed this site to be maintained for the past 16 years.

We do our best to ensure only clean, relevant ads are shown, when any nasty ads are detected, we work to remove them ASAP. If you would like to view the site without ads while still supporting our work, please consider our ad-free Phoronix Premium. You can also consider a tip via PayPal.
Earlier this year AMD rolled out the ATI FirePro V8800 workstation graphics card as their new high-end offering derived from their Evergreen architecture and to serve as the next-generation solution to the FirePro V8700 / V8750. The FirePro V8800 2GB though is no longer AMD's top workstation graphics card as this morning they are rolling out the ATI FirePro V9800 4GB.
Besides doubling the video frame-buffer size to 4GB of GDDR5 memory, the FirePro V9800 sports six mini DisplayPort outputs (compared to four DisplayPort outputs on the V8800 and most other FirePro products) that can all be driven simultaneously using ATI Eyefinity with their proprietary driver. If wishing to drive multiple 2560 x 1600 DVI panels, additional dual-link DVI adapters need to be purchased separately. The retail version of this graphics card includes five mini DisplayPort to single-link DVI adapters and then one mini DisplayPort to dual-link DVI adapter. There continues to be Framelock/Genlock and 3D Stereoscopic support on this graphics card too.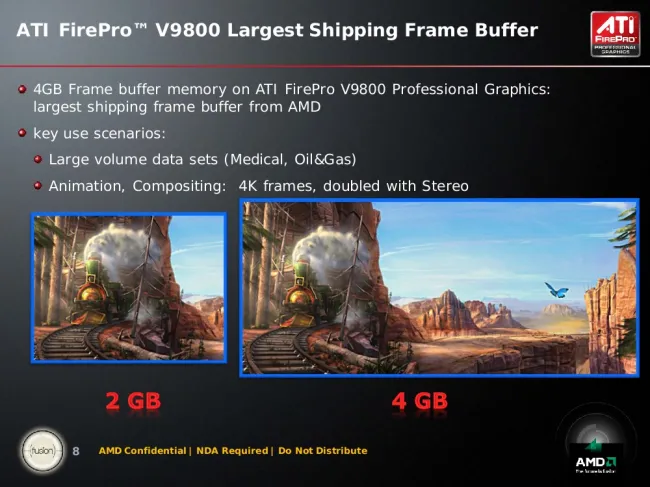 The FirePro V9800 is based upon the same Cypress GPU as found in the V8800, but the single-precision computational performance with this new graphics card is 2.72 TeraFLOPS compared to 2.64 with the V8800. One of the only other differences between the V8800 and V9800 is the power consumption is slightly less. While the V9800 can drive more displays, has twice the video RAM, and is slightly more powerful, the video memory is going through slightly less power than with the V8800 revision so the power consumption has dropped from 208W to 199W.
Unfortunately, we do not have our hands on any ATI FirePro V9800 workstation graphics card, but the Windows benchmarks provided by AMD's workstation marketing department show it performing slightly better than the FirePro V8800. Obviously if your company just purchased the V8800 you probably will not want to upgrade to the V9800 now, but the V9800 is the better alternative if you need the increased video memory capacity or need support for driving six independent displays.
Already this year there has been two occasions where AMD has delivered major performance optimizations in their FirePro Linux / Windows driver. We tested these two drivers in March and July and found them to be very impressive. The good news is that more performance optimizations are coming to AMD's proprietary driver in the coming months. Within the next few months, we should see some evolutionary improvements while waiting for the next major boost. The Linux support should be nearly on par with the Windows support and driver in terms of features and support. The only Linux caveat is whether the latest publicly released Linux driver supports six Eyefinity outputs for the workstation hardware or whether it's limited to four at this point, but we haven't heard back from AMD regarding any Linux limitations.
The price on this new FirePro V9800 4GB workstation beauty is $3,499 USD, which is $2,000 more than the FirePro V8800. Until recently, the estimated MSRP was $2,499, but AMD then realized the extra performance gains were worth upping the price further. The ATI FirePro graphics cards are available for purchase at NewEgg and Amazon. While we don't have our hands on a FirePro V9800 -- at least not yet -- in the meantime you can find our Linux reviews of the ATI FirePro V8800, V7800, V5800, V4800, and V3800 for the current Evergreen family.
Planning to take out 70-401 certification? Join the pass4sure MB2-632 training program to successfully pass 117-101 exam.
If you enjoyed this article consider joining Phoronix Premium to view this site ad-free, multi-page articles on a single page, and other benefits. PayPal tips are also graciously accepted. Thanks for your support.