Show Your Support: This site is primarily supported by advertisements. Ads are what have allowed this site to be maintained on a daily basis for the past 18+ years. We do our best to ensure only clean, relevant ads are shown, when any nasty ads are detected, we work to remove them ASAP. If you would like to view the site without ads while still supporting our work, please consider our ad-free Phoronix Premium.
X.Org 7.4, Mesa 7.1 In Ubuntu 8.10
Since last night's release of Ubuntu 8.10 Alpha 2 we have been trying out this latest work from the Canonical camp. While many Linux desktop users would just shrug off X.Org 7.4 as not being too relevant to them -- considering there aren't that many new blatant features -- if you're a faithful Phoronix reader you should already know about much of the recent driver work (especially on the ATI side) and Mesa advancements along with X Server fixes.
For instance, with the open-source R500/600 (ATI Radeon X1000, HD 2000/3000 series) work picking up over the past couple of months, Ubuntu 8.10 will support the R500 3D acceleration that is good enough to play some games. In addition, the R600/RV770 2D and 3D acceleration is coming along. Albeit the R600 work is behind closed doors right now (besides the R600 DRM), but hopefully the documentation and TCore/KGrids source-code will be released soon and this 3D acceleration for newer graphics cards will be able to land in time for Ubuntu 8.10. These open-source ATI improvements mean a dramatically improved "out of the box" experience for more Linux users.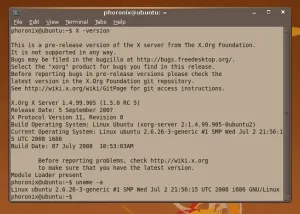 Enabled by default within Ubuntu 8.10 Alpha 2 for R500 users is the AtomBIOS-based xf86-video-ati driver. However, if you're interested in using the xf86-video-radeonhd driver for open-source R500/600 support, it too is shipping with Ubuntu Intrepid and can be enabled through modifying the xorg.conf.
While ATI is the biggest winner with this latest work, the NVIDIA and Intel parties also benefit. For instance, since Ubuntu 8.04 LTS, XvMC improvements, DisplayPort/HDMI connector support, and GMA X4500 IGP support have been among the numerous changes to Intel's DDX and Mesa components. Intel has also been working on its GEM memory manager as a replacement to Tungsten's TTM.
For the few users out there who get by with NVIDIA's official xf86-video-nv driver that's limited to basic 2D support, there have been some minor improvements here as well. Product support for the GeForce 9 Mobile GPUs and high-end GTX 260/280 series has been added. A few other random ASICs were added in and a few bugs squashed (NVIDIA Makes A Trivial OSS Driver Update) but beyond that, there isn't much to talk about. As there still is no release yet of Nouveau, the xf86-video-nouveau driver for a 3D-accelerated open-source NVIDIA driver that's been reverse engineered has yet to enter Ubuntu's main repository.
When it comes to binary drivers, the ATI and NVIDIA drivers are both packaged and found within Ubuntu's package repository. On the ATI side there is Catalyst 8.6 and on the NVIDIA side there are four different drivers -- this is because NVIDIA and ATI/AMD take different approaches to supporting their older hardware. ATI supports their R300 through RV770 hardware all through their single Linux Catalyst Suite / fglrx driver. A year ago with the fglrx 8.28 driver they had discontinued their support for the R200 (Radeon 9000 series) graphics processors. However, all of their graphics processors are also supported by at least one open-source driver (for some, there's even multiple drivers for the same hardware). On the NVIDIA side, they are now supporting four separate driver branches in order to support their range of GPUs and IGPs. As a result, there is the nvidia-glx-177, nvidia-glx-173, nvidia-glx-96, and nvidia-glx-71 packages in order to support the different GeForce and Quadro parts.
Shipping with Alpha 2 is X Server 1.4.99.905 (1.5.0 RC5) and Mesa 7.1 RC1 (the latest Mesa release is 7.1 RC3). With Ubuntu 8.10 using the Linux 2.6.26 kernel there are even more benefits to the end-user when it comes to the graphics support. This kernel brings updated Intel and ATI DRM. This DRM (Direct Rendering Manager, not to be confused with Digital Rights Management) brings the kernel component needed for the ATI R500 series and Intel's X4500 as well as fixes for earlier Radeon GPUs and updated ATI microcode. The updated ATI microcode in and of itself brings even more improvements.
So while the Ubuntu 8.10 Intrepid feature change-log looks rather small so far, just updating to the latest Mesa and X.Org components brings a slew of enhancements that will improve the open-source graphics experience for many Ubuntu users. Before anyone asks, however, there is no kernel-based mode-setting support within Ubuntu 8.10. The updated Linux kernel will also bring greater hardware support into Ubuntu and GCC 4.3 will mean improved compile times for those with newer processors.
If you enjoyed this article consider joining Phoronix Premium to view this site ad-free, multi-page articles on a single page, and other benefits. PayPal or Stripe tips are also graciously accepted. Thanks for your support.