Sapphire Radeon HD 4670 512MB GDDR4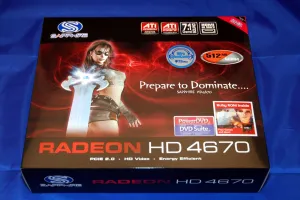 Back in September we reviewed the Sapphire Radeon HD 4670 graphics card that offered 512MB of GDDR3 memory. Overall, this RV730-based graphics card had performed well under Linux and not a bad investment with it retailing for about $80 USD. Sapphire Technology though has now introduced a new version of the Radeon HD 4670 that sports 512MB of GDDR4 memory. Will switching out the GDDR3 for GDDR4 memory have much of an overall impact on this graphics card? We have the results in this article.
Features:
- Optimized GDDR4 Design
- Ultra Low Noise Cooler
- 320 Stream Processing Units
- PCI Express 2.0 Support
- 750MHz RV730XT Core Clock
- 1100MHz Memory Clock
- Onboard HDMI
- 7.1 Audio Channel Support
Contents:
On the exterior of the Sapphire Radeon HD 4670 GDDR4 packaging are various graphics, lists of the different features, and other highlights that are common to Sapphire's package design. Inside the graphics card was wrapped in an ESD bag and was secured within a cardboard compartment with a soft piece of Styrofoam being on the outer side. Included with this PCI Express graphics card was the Sapphire user manual, CyberLink DVD Suite, one CrossFire bridge, Ruby ROM Volume 1.1 media, Sapphire Catalyst driver CD, and CyberLink PowerDVD. No Linux software is found on any of the discs.