Show Your Support: This site is primarily supported by advertisements. Ads are what have allowed this site to be maintained on a daily basis for the past 19+ years. We do our best to ensure only clean, relevant ads are shown, when any nasty ads are detected, we work to remove them ASAP. If you would like to view the site without ads while still supporting our work, please consider our ad-free Phoronix Premium.
AMD Radeon RX 590 Linux Benchmarks, 18-Way NVIDIA/AMD Gaming Comparison
With the very newest AMDGPU Linux kernel patches, the Radeon RX 590 is now working correctly on Linux. Here's a look at how this latest Polaris graphics card is performing for Linux games against seventeen other AMD Radeon and NVIDIA GeForce graphics cards in a variety of OpenGL and Vulkan benchmarks.
AMD launched the Radeon RX 590 in mid-November as a Polaris shrink down to 12nm and featuring 36 compute units, a base frequency up to 1469MHz and boost up to 1545MHz, 2304 Stream processors, 8GB of GDDR5 video memory, and is rated for up to 7.1 TFLOPs of performance potential.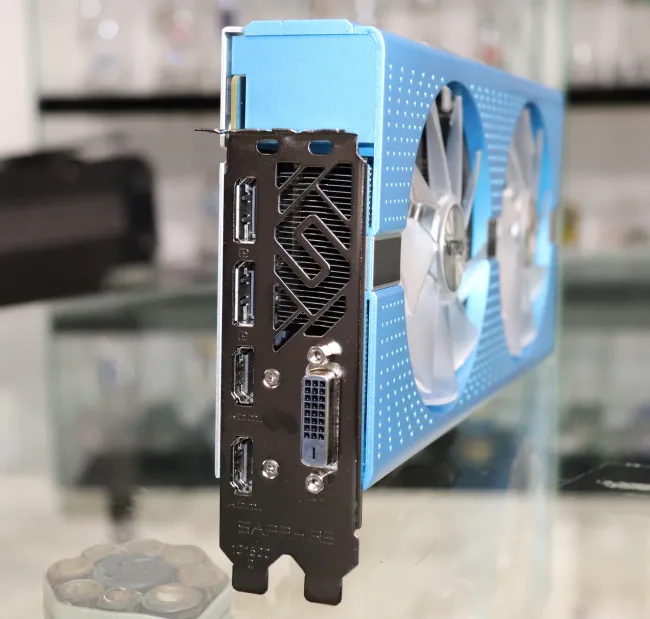 While the RX 590 is just another Polaris refresh, video BIOS and power management changes to the RX 590 caught their Linux developers off-guard with the retail models compared to their pre-production bring-up. As a result, it took until yesterday (6 December) for the RX 590 Linux support to get squared away... There are new Polaris binary microcode files as well as patches not yet mainlined. Some of the RX 590 patches are merged for Linux 4.20 while the final patch (yesterday's work) will hopefully reach the Linux 4.20 kernel in the next week or so. So Linux 4.20 should be in good shape for Linux support when released at month's end but it remains to be seen if the work will get back-ported to Linux 4.19 or older. For now any RX 590 Linux users will need to jump through these extra hoops but at least the Mesa RadeonSI/RADV support is in order.
For those wondering, no, the Sapphire Nitro+ Radeon RX 590 does not mention Linux in terms of supported operating systems. Sapphire used to be quite friendly towards Linux at least in my communications with them but less so in the past few years.
With a patched Linux 4.20 kernel build and using Mesa 19.0-devel (built against LLVM 8.0 SVN via the Padoka PPA), the Radeon RX 590 has been running without issue. The Radeon tests for this comparison were running off Linux 4.20 (which does have a nice performance boost compared to 4.19 and prior) and Mesa 19.0-devel while the NVIDIA tests were running with their latest 415.18 stable driver. The 18 graphics cards for this benchmarking were:
- R9 290
- RX 480
- RX 560
- RX 580
- RX 590
- R9 Fury
- RX Vega 56
- RX Vega 64
- GTX 980
- GTX 980 Ti
- GTX 1060
- GTX 1070
- GTX 1070 Ti
- GTX 1080
- GTX 1080 Ti
- RTX 2070
- RTX 2080
- RTX 2080 Ti
All of the graphics cards were tested over the past week on the Intel Core i9 9900K system with ASUS PRIME Z390-A motherboard, 16GB DDR4 memory, Samsung 970 EVO 250GB NVMe SSD, and 4K display.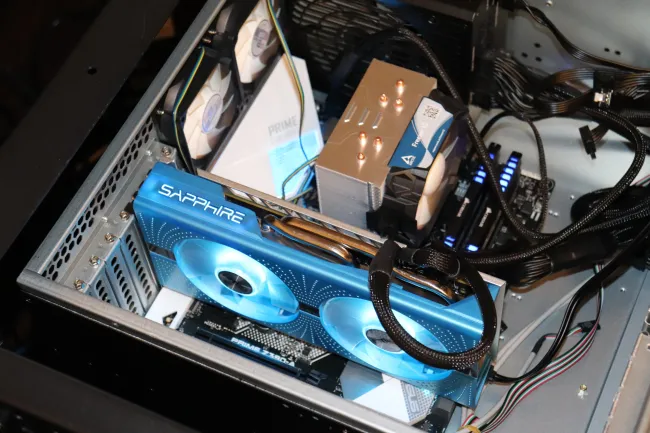 In addition to looking at the raw OpenGL/Vulkan Linux gaming performance, the AC system power consumption was being monitored by the Phoronix Test Suite to also generate performance-per-Watt metrics on a per-test basis. There was also GPU thermal monitoring and also performance-per-dollar data too. If you enjoy all of my Linux hardware benchmarking consider showing your support by joining Phoronix Premium.