The Extreme Cases Where A NVIDIA GTX 950 Can Outperform An AMD R9 Fury On Linux OpenGL
Given the current state of the AMD Catalyst Linux driver, there exists games on Linux that will run with this closed-source Radeon driver but where the performance of a EVGA GeForce GTX 950 FTW that retails for $180 USD can exceed the performance of a AMD Radeon R9 Fury that sells for more than $550 USD. Here's some of those cases where -- given the current state of Catalyst on Linux -- the OpenGL performance is so far down the gutter.
With this morning's Linux review of the GeForce GTX 950 the performance of this Maxwell GPU and its siblings were compared on the AMD side to the Radeon R7 370 and R9 285 given that they're close in price and performance (at least under Windows) and also a R9 290 given the current Linux driver situation. Once I had more time to run tests after powering through this morning's article, I decided to run a Radeon R9 Fury test to see how the performance would compare since I recently spent nearly $600 on this air-cooled graphics card for Linux testing.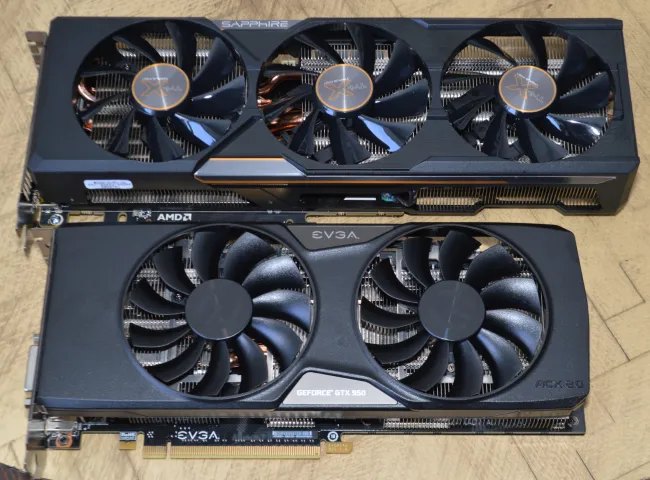 As most Phoronix readers are aware, due to the state of the Catalyst OpenGL driver, many Linux games -- particularly those that have come to Steam over the past year -- have performed rather abysmally with Catalyst. It's why for many Linux game launches, the developers will recommend just NVIDIA or even Intel graphics or even put up warnings about using Catalyst on Linux.
The Linux OpenGL results shown in this article were using the latest proprietary drivers from AMD and NVIDIA: Catalyst 15.7 and NVIDIA 355.06, respectively. The tests used did run and render on both graphics cards/drivers where the performance difference isn't coming down to outright faulty rendering but likely overhead issues within the Catalyst OpenGL Linux implementation.
The same system and Ubuntu 15.04 installation used in today's GTX 950 review was used for this round of testing. All tests were driven in a fully-automated and reproducible manner using the open-source Phoronix Test Suite benchmarking software.