The MSI X99S SLI PLUS Is Working & Running Well On Linux
Last month following the launch of Intel's Core i7 5960X Haswell-E platform I ran into a rather odd situation with the first system assembled using the X99 chipset and eight-core, $1000+ processor: the motherboard failed. Coincidentally it happened at the same time as another motherboard failure at a fellow review site. Fortunately, since then, there's been no other major reports of failures with Intel's new platform. MSI has been helpful in this matter and I've since received a new MSI X99S SLI PLUS to confirm there's no fundamental issues with their board.
The initial X99 motherboard failures seem to just be rare, odd coincidences. The Legit Reviews' ASUS X99 motherboard that failed reportedly was due to a bad soldering job last I heard on the matter. In the case of my MSI X99S SLI PLUS motherboard, MSI's R&D team in Taiwan investigated and found the problem attributed to one of the motherboard's fan headers. However, what caused the issue isn't clear with the Raven RV05 having nothing but a stellar record on SilverStone's side, my installation of the system being properly done, MSI not receiving any other X99S SLI PLUS failure reports, and the same case/fans working fine in other systems. I've also not experienced any similar issue with the dozens of other SilverStone cases I've reviewed over the past 10+ years on Phoronix and likewise haven't experienced such a dramatic MSI motherboard failure in the past. In fact, upon receiving a replacement motherboard from MSI for review, I installed it back in the same RV05 and it worked fine. So at the end of the day it's likely some freak, isolated incident.
Fortunately, MSI has been helpful in the matter after losing touch with my former PR/media contact at the company after he left the firm several years ago. While I originally bought the MSI X99S SLI PLUS upon the i7-5960X debut, now being in touch with the new MSI contacts they sent over a new X99S SLI PLUS review sample that arrived this week. In my testing thus far, the X99S SLI PLUS is working without faults. For good measure I even installed it back in the Raven RV05 and used many of the other same components as in the earlier article. All appears to be good and the only thing smoking is the smoking fast performance of the Core i7 5960X eight-core processor with Hyper Threading.
I'll be writing a proper Linux review of this MSI motherboard in the weeks ahead, but so far in tests from Ubuntu Linux everything has been running fine. There will be plenty of benchmarks from this X99 motherboard and it's certainly an interesting product. I had bought the motherboard originally when looking at its feature set while being one of the cheaper X99 motherboards at just over $200 USD and after this initial hurdle is now affirming to be a good choice.
Thanks go out to MSI and SilverStone for promptly working through this issue. Expect full reviews on the MSI X99S SLI PLUS and SilverStone Raven RV05 later this month. If there's any good that came out of this motherboard situation is now being in touch again with MSI and will hopefully be able to enhance the Linux experience for their customers with matters like more easily upgrading the motherboard BIOS for Linux users, more MSI Linux testing, etc.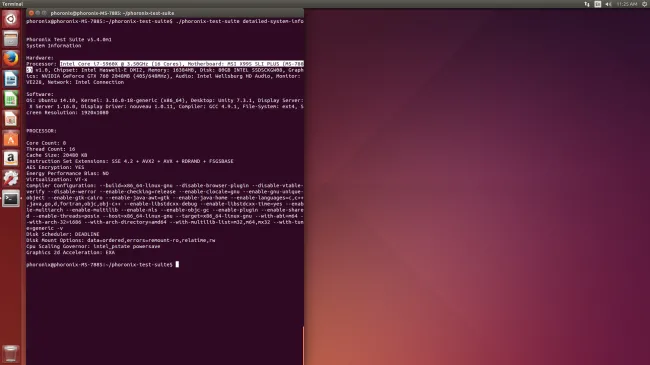 Now back to the X99 + i7-5960X Linux testing, which has been going well and this processor offers excellent performance for Linux users commonly building code from source and other workloads that can leverage all of the processor's cores.
If you enjoyed this article consider joining Phoronix Premium to view this site ad-free, multi-page articles on a single page, and other benefits. PayPal tips are also graciously accepted. Thanks for your support.