Show Your Support: Did you know that the hundreds of articles written on Phoronix each month are mostly authored by one individual? Phoronix.com doesn't have a whole news room with unlimited resources and relies upon people reading our content without blocking ads and alternatively by people subscribing to Phoronix Premium for our ad-free service with other extra features.
MSI Motherboard BIOS Updating Remains A Pain For Linux Users
While most if not all of the modern motherboards produced by MSI allow BIOS/UEFI updating to happen from within the BIOS setup utility and done using a USB flash drive -- as is also the case with most other motherboard vendors -- for Linux users the updating can be a bit more of a headache for MSI motherboards.
In recent years with more motherboard vendors enabling the updating of the BIOS/UEFI from within the setup utility itself and support loading the BIOS file off a USB thumb drive or other storage, it's generally easier for Linux users and all around a smoother process than the days of having to make a MS-DOS start-up floppy disk or similar. For most of these BIOS updates, Windows is generally not required as you can just head on over to the vendor's web-site, download a zipped up copy of the BIOS, transfer it to a USB drive, and reboot into the UEFI setup utility and flash away.
Some vendors will package their BIOS file inside an EXE that has to be executed that will then extract the file right away, but fortunately there's many programs capable of straightaway extracting the files from the EXE or the worst case scenario is generally just running the EXE under Wine. As a Linux user, with MSI motherboards their BIOS packaging takes it to an additional level of annoying and for some Linux users could be show-stopping.
With at least the few MSI motherboards I've recently had to flash, from the MSI web-site is a ZIP file from the support area to update the BIOS. When extracting the ZIP file is an EXE file, which doesn't play nicely under Wine and can't be otherwise extracted easily. I've yet to find out a way to easily extract the BIOS file from the EXE file for MSI motherboards or for getting MSI to avoid this Windows-specific packaging.
When having an old laptop around that still has a copy of Windows, I can run the EXE file, but the first error box I usually get is a reminder that this file needs to be opened up when placed on a USB pen drive (running on Wine will also hit this error). The EXE won't extract unless the file is placed on a USB storage drive.
Once positioning the file on a USB thumb drive, it still might be a non-starter... If you're like me and just dig up an old system that happens to have a copy of Windows on it for extracting the BIOS to a USB drive before plugging it into your MSI system, that doesn't work either. MSI's Windows executable has a check that the BIOS won't extract unless it detects the system you're using matches that particular motherboard that the motherboard is intended for.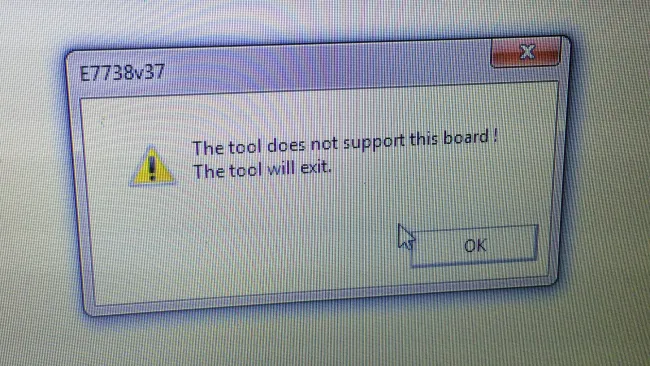 So MSI's utility doesn't work if you're running Windows on a different machine from the motherboard you intend to flash. This utility doesn't do any Windows-based flashing, but simply extracts the BIOS file along with an accompanying DOS program for optionally carrying out the flashing. When I've done the extracting on the same system before, after running the EXE under these conditions it was then an easy process of rebooting, booting into the setup utility, and flashing the motherboard to the new version; MSI just imposes these headaches of trying to safeguard the user against extracting the BIOS files to your hard drive (for no reason) and trying to make sure you have the right motherboard BIOS before extracting (even though there's also such checks when trying to go through the actual flashing process in the setup utility). In other words, it's just a pain in the ass for Linux enthusiasts.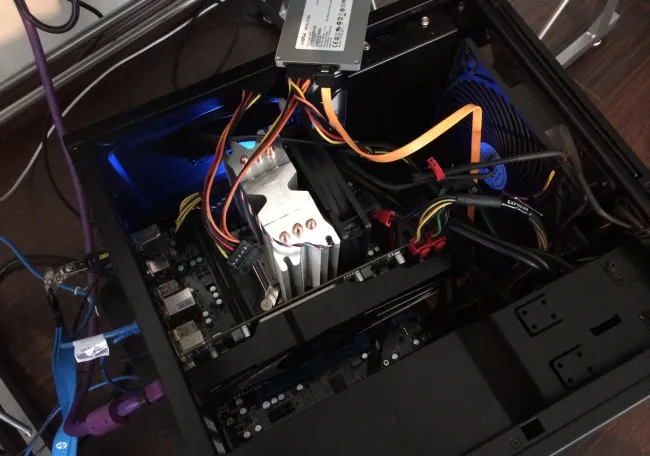 I've also tried running this EXE file from DOS with various arguments to just try forcing the extraction without any checks, etc, but that's been to no avail. So far I've found no easy way for Linux users to obtain the MSI BIOS files without installing Windows on the actual system just to carry out the process of extracting the BIOS files from the pesky MSI utility. It's especially annoying (and causing this write-up) as this weekend from my MSI X79MA-GD45 motherboard with Intel Core i7-4960X that I've been working on getting operational for comparison purposes in my upcoming Core i7 5960X Haswell-E Linux review. Ever since installing FreeBSD 10.0 to the MSI X79MA-GD45 several months back, the EFI support has been funky and often won't boot much anything unless first booting to a reFind USB stick (clean Linux installations, etc, also tend to fail otherwise). So I've been trying to re-flash the BIOS that will also put it at a new version, but it's frustrating having to deal with this silly MSI Windows utility to extract the BIOS files rather than just packaging the files straight-forward into a zip file...
If anyone happens to know of any nice workarounds, please post in the forums, or if you know of any other problematic motherboard vendors. At least MSI hasn't just outright
recommended the use of Windows
for fixing Linux problems, unlike some other vendors.