Show Your Support: Have you heard of Phoronix Premium? It's what complements advertisements on this site for our premium ad-free service. For less than $4 USD per month, you can help support our site while the funds generated allow us to keep doing Linux hardware reviews, performance benchmarking, maintain our community forums, and much more.
Intel Launches 3rd Gen Xeon Scalable "Ice Lake" CPUs With Up To 40 Cores
Intel today is introducing the 3rd Gen "Ice Lake" Xeon Scalable processors that top out with the Xeon Platinum 8380 offering 40 cores with a 2.3GHz base frequency and 3.0GHz all-core turbo while having a 270 Watt TDP and launching for ~$8099 USD. Here are more details on the Intel Ice Lake Xeon Scalable line-up.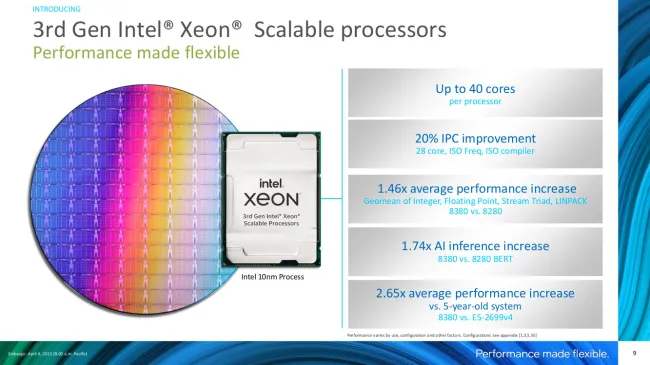 While briefed in advance, we have yet to be seeded with any review samples for independent testing. Thus as a result unable to focus on where we provide our specialty and major value to readers around the Linux support and performance. So for now here are the main highlights for 3rd Gen Intel Xeon Scalable and will have more information to report if/when we are able to actually evaluate the Ice Lake server Linux (and BSD) performance.
Over 2nd Gen "Cascade Lake" Xeon Scalable processors there is a reported 20% IPC improvement thanks to the 10nm Sunny Cove architecture. Intel talks up a 1.46x average performance increase going from the prior flagship Xeon Platinum 8280 to Xeon Platinum 8380 processors, granted there is also a 1.42x the number of cores with now tapping out at 40 cores rather than 28 cores. In the areas of AI inference and other workloads able to make proper use of AVX-512 there should be even stronger advantages to Ice Lake.
Some of the significant improvements with 3rd Gen Xeon Scalable is going from six channels of DDR4-2933 support to now matching the likes of AMD EPYC Rome/Milan and Ampere Altra with eight channels of DDR4-3200. These new processors can support up to 6TB of system memory per socket with a combination of DRAM and persistent memory. Ice Lake Xeons provide up to 64 lanes of PCI Express 4.0 connectivity per socket.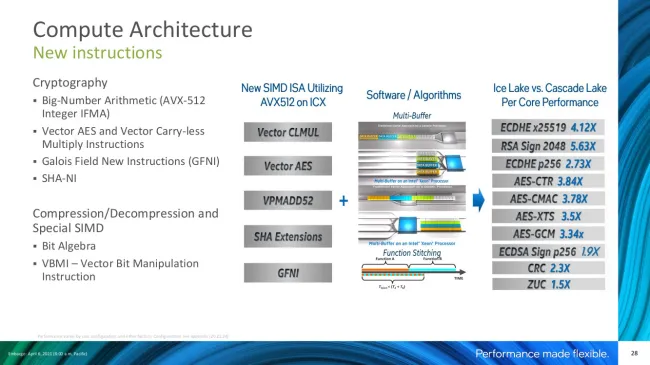 On the security front, Ice Lake Xeon processors now support Intel SGX, TME (Total Memory Encryption), and Intel Platform Firmware Resilience. There are also crypto acceleration improvements to enjoy with Ice Lake.
There are several new instructions now supported by 3rd Gen Xeon Scalable. The GCC and Clang compilers have already had "icelake-server" support going back two years so from the open-source/Linux compiler side these bits are ready to go on the latest stable compilers.
3rd Gen Intel Xeon Scalable also features more cache per core, faster processor interconnects, and is being launched along side the intel Optane 200 persistent memory devices, Intel Optane P5800X and DC P5510 SSDs, and the E810-C Ethernet adapter.
Intel frequently cited the big uplift in the Platinum 8380 vs. Platinum 8280 performance numbers, which is largely boosted by going from 28 to 40 cores. Intel did publish some numbers up against the EPYC 7763 Milan processors. Where Intel has the greatest advantage are with workloads that can make use of AVX-512 / DL-BOOST and other new instructions found with Ice Lake Xeon.
Lastly for now is a look at the 3rd Gen Xeon Scalable SKU table. The Xeon Platinum 8380 40-core CPU has a 270 Watt TDP and $8099 USD pricing, down from the $10k originally found with the 28-core Xeon Platinum 8280. As a reminder, AMD's new EPYC 7763 Milan flagship model is priced around $7890 USD for its 64 core / 128 thread part with a 2.45GHz base frequency and 3.5GHz boost while having a 280 Watt TDP.
That's the quick overview of Intel's 3rd Gen Xeon Scalable processors until being able to put the processors through their paces under Linux to see how they independently stack up against the likes of the AMD EPYC 7003 and Ampere Altra processors.
If you enjoyed this article consider joining Phoronix Premium to view this site ad-free, multi-page articles on a single page, and other benefits. PayPal or Stripe tips are also graciously accepted. Thanks for your support.