Intel Announces New Alder Lake CPUs, Alchemist Graphics Update
Intel is using CES 2022 to announce the 12th Gen Intel Core mobile processors led by the H-series processors, new 35-Watt and 65-Watt 12th Gen Core desktop CPUs, an updated Intel Evo specification, and an update on their DG2/Alchemist discrete graphics efforts.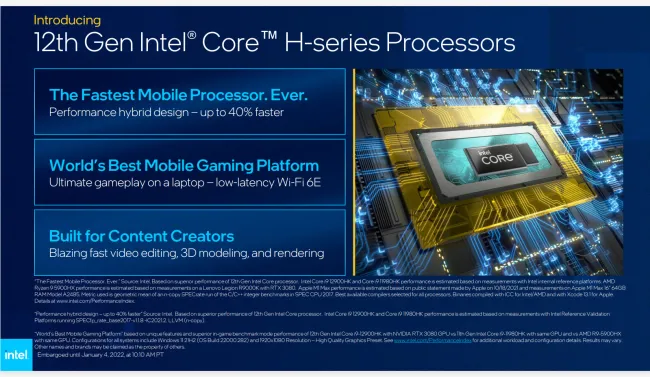 Intel's new 12th Gen Intel Core mobile processors are said to be up to 40% faster than prior generation Intel mobile processors.
Intel's new flagship mobile processor is the COre i9 12900HK that offers up to 5GHz frequencies, 14 cores / 20 thread design, and up to 28% faster gaming performance. Intel is reporting as much as 43% higher performance in 3D rendering applications over prior generation H-series processors.
12th Gen Intel Core H-series systems are expected to start shipping in February. More than 100 designs using Alder Lake H-series processors are expected to come to market this year.
Intel does claim that the Core i9 12900HK delivers not only better power-performance than the AMD Ryzen 9 5900HX but even ahead of Apple's M1 Max SoC.
Intel also announced their 12th Gen Core P-series thin/light laptop SKU stack.
And the U-series parts as well...