Using Dual 4K Monitors Stacked With GNOME
The past month or so on my main production workstation I have been using two 28-inch 4K displays in a stacked configuration rather than side-by-side. The workflow has been working out nicely and I just wanted to relay some thoughts.
The setup for my main production system that is still on Fedora Workstation 26 with GNOME Shell 3.24.3 has been working out fine. The two displays are the ASUS MG28UQ monitors that work out well on their own and do work with AMDGPU FreeSync on Linux. A GeForce GTX 1050 Ti is enough to power the dual 3840 x 2160 displays for desktop tasks mostly limited to many terminals, Firefox, Chrome, Thunderbird, and other GNOME desktop applications. Certainly that lower-end Pascal GPU isn't fast enough for 4K gaming, but it's not like I have the time for any gaming and for a purely desktop system it's working out fine paired with the 387.34 proprietary driver on Fedora 26 paired with Linux 4.14.
The stand I am using is the VIVO STAND-V002R designed for a vertical array of two displays up to 27-inch in size. But these two ASUS MG28UQ 28-inch displays did fit fine on the stand with close proximity to each other and close off the desk. So 28-inch displays should work as long as the monitor bezel is small and you aren't trying to place the monitors any distance away from one another.
This VIVO dual-screen vertical monitor stand can be found from Internet retailer NewEgg.com for less than $40 USD. This VIVO monitor stand mounted firmly against the custom-built butcher-block computer desks. The weight of two 28-inch monitors mounted vertically hasn't been any issue for these wooden desks and that paired with several other monitors is no issue for the metal pipe legs.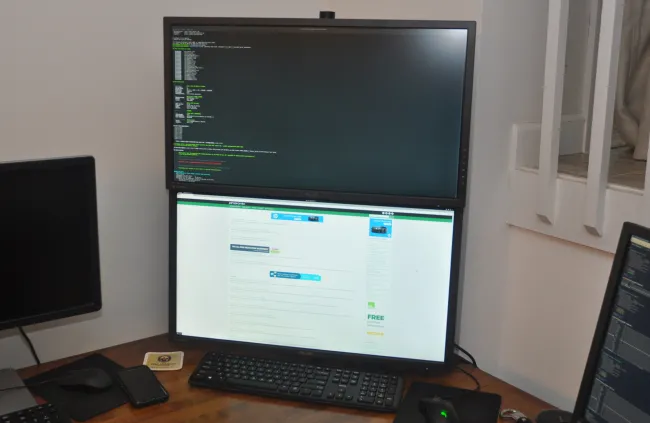 While I've done dual side-by-side screens and even quad monitor setups over the years, this is my first time doing just a stacked dual monitor configuration, especially as my main workstation. The configuration has worked out fine with keeping terminals on the upper disk or other mostly dormant windows as well as the Phoromatic dashboard for displaying the state of all the busy benchmarking systems in the basement server room. The stacked configuration does save a lot of real estate on the desk rather than needing 28-inch displays side-by-side.
As far as the GNOME Shell experience goes in a stacked display configuration, it has been working out fine without any issues to complain of -- except one. When using icons on the desktop, they do not take into account gaps in the desktop when auto-arranged. So you may find half of an icon on one screen and half on the other. But overall not much of a difficulty. But with GNOME Shell not using icons on the desktop by default and that functionality going away with GNOME 3.28, understandably it's not of much importance for upstream. Aside from that at least for my workflow GNOME Shell in this display configuration has worked out fine.
If anyone has any other questions about the setup, feel free to comment in the forums.
If you enjoyed this article consider joining Phoronix Premium to view this site ad-free, multi-page articles on a single page, and other benefits. PayPal or Stripe tips are also graciously accepted. Thanks for your support.