The Custom Phoronix Desks Are Still Holding Up One Year Later
In case you missed the articles last year or are curious how they are holding up, here's an update on the custom L-shaped desks I built last year of galvanized pipes and sheets of butcherblock for being able to withstand the weight of plenty of monitors and other computer hardware.
If you missed the articles last year, see
Building A Massive L-Shaped Desk For A Better Workflow, More Monitors & Space
. There's also the
Finishing Up The Second Butcher Block + Galvanized Steel Desk Build
. The desks were done to allow more monitors and improve the efficiency/workflow. Also related is
Building A Butcher Block Computer Desk To Comfortably Handle Six Monitors
.
Long story short, the desks continue holding up very well. The Kee Klamps have held up without any issues, the unique paint of the galvanized steel (using LeakSeal...) has held up so far, no issues with the joints where binding together the pieces of butcherblock, and the butcherblock itself is working out fine with just a few scratches and nicks to where my chair has continually rubbed against the sides of the butcherblock, dropped hardware on the desks, etc, but overall it's held up well and perhaps would have just done an extra coat of sealant at the end to make it more resistant.
My wife remains happy with her desk as well. So no real regrets so far and for the low cost of building it yourself, it's been a wonderful investment and much better than
my previous office desk setups
.
Now if only I could keep it better organized and clean...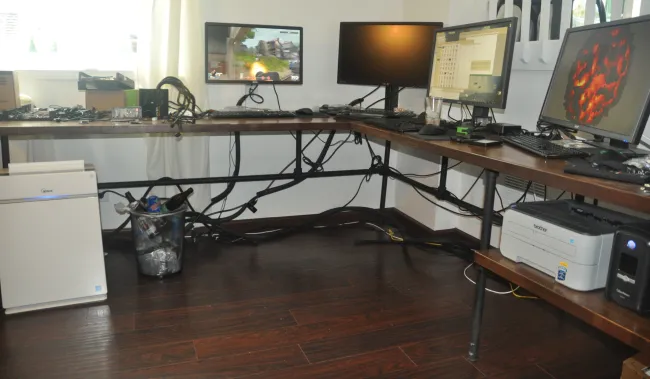 If anyone is interested in doing a similar desk build and has questions, feel free to let me know via the forums.