Show Your Support: This site is primarily supported by advertisements. Ads are what have allowed this site to be maintained on a daily basis for the past 18+ years. We do our best to ensure only clean, relevant ads are shown, when any nasty ads are detected, we work to remove them ASAP. If you would like to view the site without ads while still supporting our work, please consider our ad-free Phoronix Premium.
Fedora 12 Alpha To Bring Many Linux Desktop Improvements
The first development release for Fedora 12 (codenamed Constantine), Alpha 1, was supposed to be released this week. However, Red Hat has pushed back its release to next week Tuesday. While there is this seven-day delay, an Alpha 1 RC1 ISO spin is available and we decided to provide a very early and brief look at the Fedora 12 release.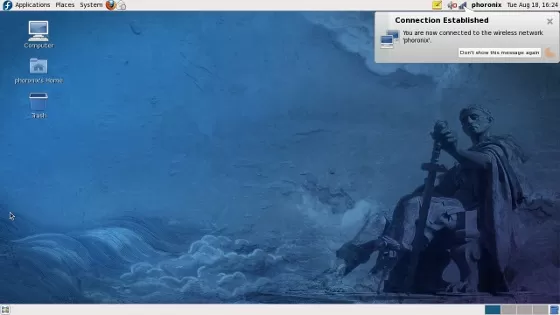 Like all Fedora releases, Fedora 12 will contain a number of new (mostly updated) upstream packages from KDE 4.3 to GNOME 2.28 on the desktop to the Linux 2.6.31 kernel underneath. Fedora 12 will also be shipping with all of the latest X bits, which by the time of its release come in November, hopefully will mean an official X.Org 7.5 / X Server 1.7 build, but for the Fedora 12 Alpha there are already development snapshots in place of the major components.
Bettering the Linux desktop in Fedora 12 is support for more web-cameras, Empathy replacing Pidgin as the default instant messaging client, mobile broadband enhancements in NetworkManager, full IPv6 support for NetworkManager, PolicyKit 1.0 integration, improved power management, and integration of PackageKitBrowserPlugin and PackageKitCommandNotFound.
Other important features but not directly relevant to an end-user is Dracut replacing nash/mkinitrd, using XZ as the default payload compression for RPM, and the 32-bit Fedora packages will switch from i586 to i686 for providing faster performance. Red Hat's X developers are also hoping to have DisplayPort support in the DDX drivers and X Server for the ATI and Nouveau drivers (along with the Intel driver, but that's mostly complete upstream already). With X Server 1.7 (or some development snapshot) shipping with Fedora 12, they are also working on a nice X Input 2 / Multi-Pointer X experience.
The other area making up a bulk of the new features in Fedora 12 relates to improving the virtualization support. Fedora 12 is poised to bring network interface hot-plugging to KVM, improved performance for virtual machines using the qcow2 disk image under KVM, a stable KVM guest ABI, a library for accessing/modifying VM disk images, virtual network interface management, improved virtualization security, and virtualization storage management.
The first alpha release of Fedora 12 is scheduled to make it out on the 25th of August. The final release of Fedora 12 is expected in early November. We will be sharing more about Fedora 12 "Constantine" as its release approaches.
If you enjoyed this article consider joining Phoronix Premium to view this site ad-free, multi-page articles on a single page, and other benefits. PayPal or Stripe tips are also graciously accepted. Thanks for your support.