Happy Holidays! If you enjoy all the original Linux hardware reviews and open-source news content on Phoronix, consider joining Phoronix Premium this holiday season. For Black Friday / Cyber Monday, there is a cyber week special to go premium and enjoy an ad-free experience, native dark mode, and multi-page articles presented on a single page.
AMD EPYC 7003 "Milan" Linux Benchmarks - Superb Performance
It's been one and a half years already since the EPYC 7002 "Rome" processors launched. It's hard to think it's been that long due not only to the pandemic but the incredible performance of these Zen 2 server processors. The EPYC 7002 series continues to largely outperform Intel's Xeon Scalable processors and while Ice Lake is coming soon, for now AMD is expanding their lead with today's EPYC 7003 "Milan" processor launch. We have begun our testing of AMD EPYC Milan processors in recent weeks under Linux and have preliminary performance figures to share today as well as more information on these next-gen server/HPC processors.
AMD EPYC 7003 is ready to deliver even greater performance over EPYC 7002 series thanks to higher integer throughput, doubling the INT8 potential, reducing the effective latency to system memory, and improved branch prediction compared to the Zen 2 server cores. The Zen 3 cores of the EPYC 7003 series aim to deliver around 19% greater instructions per cycle, which like with our Ryzen 5000 series desktop tests do pan out and we've found significant uplift across the board with the 7003 series.
The EPYC 7003 processors continue to make use of the SP3 socket, SKUs up to 64 cores / 128 threads, eight channel DDR4-3200 memory is supported across all SKUs, SMT, Secure Encrypted Virtualization, and 128 lanes of PCI Express Gen4 is carried over from Rome. New with the EPYC 7003 series is offering a 32MB unified L3 cache, the Infinity Fabric clock and DDR4-3200 DRAM speed is now coupled, and other architectural improvements.
With still making use of the SP3 socket and focusing on drop-in compatible with EPYC 7002 series platforms, the TDP range for the new Milan processors remain in the 120 to 280 Watt range. The current top-end SKU is the EPYC 7763 that is 64 cores with a 2.45GHz base frequency and 3.50GHz boost frequency while having a 280 Watt TDP. Or their second 64-core Milan launch SKU is the EPYC 7713/7713P that with has a 225 Watt TDP while having a 2.0GHz base frequency and 3.675GHz boost frequency for its 64 cores.
While it wasn't until last year that AMD announced their 7Fx2 frequency-optimized Rome SKUs, this initial Milan launch is also greeted by new frequency-optimized SKUs as well with the AMD 7xF3 processors (yes, a slight and somewhat annoying change to the naming convention from 7Fx2 to 7xF3 labeling). Those new frequency-optimized parts include the EPYC 72F3 with 8 cores / 16 threads and 3.7GHz base frequency with 4.10GHz boost clock at 180 Watts up through the EPYC 75F3 at 32 cores / 64 threads with a 2.95GHz base frequency and 4.0GHz boost clock while having a 280 Watt TDP.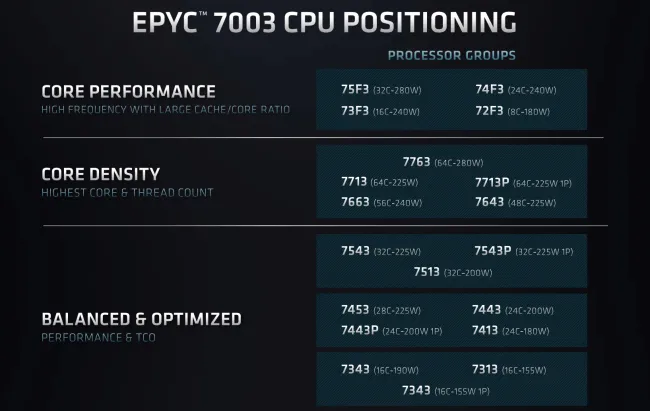 New to the EPYC 7003 line-up are SKUs at 28 cores and 56 cores, seemingly in wanting to offer models aligned with Intel's current peak core/thread counts, while still offering 8 / 16 / 24 / 32 / 48 / 64 core options. The AMD EPYC product line-up remains much more clear and easier to decipher than Intel Xeon SKU list with differences to memory support, AVX-512, etc.
One thousand unit pricing on the AMD EPYC 7003 series ranges from the EPYC 7313P at the low-end of $913 USD for that 16 core / 32 thread part up through the flagship EPYC 7713 at $7060 USD or EPYC 7763 at $7890 USD. The frequency optimized SKUs range from the EPYC 72F3 costing $2468 to the 75F3 costing $4860 USD. This pricing is comparatively higher than what we saw with Rome where the EPYC 7642 launched and continues to go for under $5k USD but still better than the launch retail pricing of the Intel Xeon Platinum 8280 that commanded a $10,009 USD list price.
Today's AMD Milan debut is a hard launch with availability expected in retail channels. Not only that, some public cloud providers such as Microsoft Azure are even launching new AMD EPYC Milan cloud instances today... Quite the pleasant surprise where as in the past it has often taken weeks or months before seeing the new processors surface in on-demand public clouds.
AMD supplied us with their EPYC 7763, 7713, and 75F3 processors for benchmarking today as part of the initial AMD EPYC 7003 Linux performance numbers.