SilverStone CP03 & CP04 SATA Cables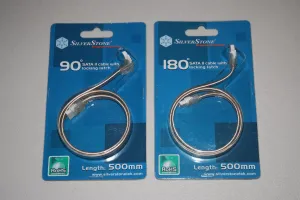 With most motherboards these days, you are provided with a more than adequate number of Serial ATA cables and for most users that is good enough. However, if you are in need of additional SATA cables or are just looking for something different, SilverStone has their CP03 and CP04 cables. The CP04 has a SATA 2.0 connector rotated 90 degrees, while both the SilverStone CP03 and CP04 have a metallic EMI guard layer and a sturdy locking mechanism.
The features of being built with commercial grade components, connectors with locking mechanisms, and EMI shielding are common to both the CP03 and CP04, with the difference between the two just being a rotated connector. With the added shielding, the cables have a metallic appearance, since many people will get after-market cabling for the appearance. Both the CP03 and CP04 have a 500mm cable length.
There isn't much to say about Serial ATA cables in general, and the SilverStone CP03 and CP04 isn't much different. The real benefits for these after-market SATA cables are just added EMI suppression via a metallic cable layer, a sturdy locking mechanism, and a 90 degree rotated connector on the CP04 model. This rotated connector works out well for some hard drive bays and other environments where the space around the drive connection can be limited. When using these cables we found them to be flexible and had stayed affixed well. The SilverStone CP03 and CP04 each cost about $7 USD.
If you enjoyed this article consider joining Phoronix Premium to view this site ad-free, multi-page articles on a single page, and other benefits. PayPal tips are also graciously accepted. Thanks for your support.