Ubuntu 8.04 LTS Alpha: A First Look
The first alpha release of Ubuntu 8.04 (codenamed Hardy Heron) was scheduled to be released today, but the official release has been pushed back until tomorrow. However, a preliminary CD image of this first alpha release for Ubuntu 8.04 LTS has surfaced today on the Internet. While there is still seven more Ubuntu 8.04 test releases (five alphas, one beta, and one RC) planned before the final release of Hardy Heron in April, we have already started exploring this first Hardy Heron LiveCD.
While Ubuntu 8.04 LTS will receive a new theme/artwork in time for the release, the user interface freeze isn't until the end of February. This first alpha release of Hardy Heron looks pretty close to what you can see right now in Ubuntu 7.10 Gutsy Gibbon -- Alpha 1 is still very brown. The boot screen, installer area, and other splash screens all look the same right now. On a side note, one critical item missing right now though (from the preliminary Alpha 1 LiveCD at least) is NetworkManager.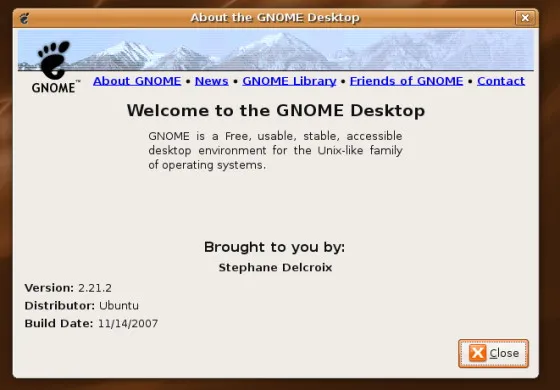 Ubuntu 8.04 Alpha 1 ships with the brand new GNOME 2.21.2, which is the latest development release in the road to the stable GNOME 2.22.
While it's expected that Ubuntu 8.04 "Hardy Heron" will ship with Firefox 3.0, Alpha 1 doesn't use the Mozilla Firefox 3.0 Beta but instead is shipping with Firefox 2.0.0.10 by default. Firefox 3.0 can be installed though from an Ubuntu repository, even on Ubuntu 7.10.