Show Your Support: Did you know that you can get Phoronix Premium for under $4 per month? Try it today to view our site ad-free, multi-page articles on a single page, and more while the proceeds allow us to write more Linux hardware reviews. At the very least, please disable your ad-blocker.
Icy Dock MB122 & MB452 Enclosures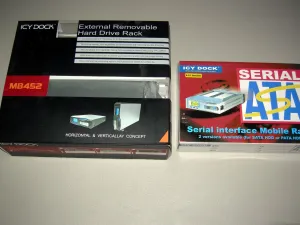 Icy Dock is a manufacturer that we previously have not had any experience with at Phoronix, but when they asked us to try out one of their enclosures, we decided to take them up on their offer. Icy Dock's origins can be traced back to OEM manufacturing of hard drive management solutions. In the end, they turned to specializing in manufacturing of drive storage products. Icy Dock has more than 10 years of manufacturing experience, and one of their strategic alliance partners is Promise Technology. The products we have up on the table for review today are the Icy Dock MB122 and MB452. These drive enclosures are definitely unlike anything we have seen before.
Features:
MB122
· Drive Fit: 1 x 3.5" ATA 133 / Hot Swappable SATA I or II
· Device Fit: 1 x 5.25" device bay
· Internal drive security, exchangeability, expandability, and maintenance capabilities
· Advanced drive monitoring system built internally w/ LCD visual & audio indicators
· Stylish faceplate with aluminum cooling body
· Warm air outtake fan cooling of drive
· Safeguard key lock capable of power control to disable data accessibility from others
· Accessible Master/Slave setting thru the drive tray without having to physically remove the drive
· Compact size version in SATA is available for limited depth integration
MB452
· Host: Plug & Play USB2.0, USB 2.0 + eSATA combo
· Drive Fit: Hot Swappable 1 x 3.5" ATA 133, SATA I or II
· Multi-drive exchangeability & maintenance capabilities with simple removal of drive tray
· Solid aluminum construction to protect your storage drive and provide the overall cooling
· Warm air Intake fan cooling of drive
· Horizontal/Vertical positioning options with retractable foot stands for vertical lay
· Safeguard key lock capable of power control to disable data accessibility from others
· Interchangeable drive capability, making data accessible as desired when using a PC platform
Contents:
The drive enclosures we are looking at in this article (MB122 and MB452) are Serial ATA based, but Icy Dock does offer a large selection of other internal and external enclosures. Included with the MB452 was the external enclosure itself, one AC power adapter, one USB 2.0 cable, one eSATA cable, two security keys, four screws, and a user manual. The contents of the MB122 were similar except this model is for use inside of the computer.