DFI Infinity NF4 Ultra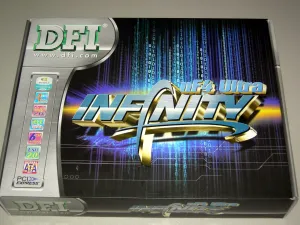 Prior to the LAN Party and LAN Party UT series, Design For Innovation was relatively unknown with the Do-It-Yourself crowd but beginning back in the Canterwood days, DFI had unleashed its LAN Party 875P-T and the engineers continued creating various other motherboards, with the most notable being their nForce4 line-up. A great deal of DFI's success can be attributed to their feature-filled BIOS' that allows processor and memory tweaking along with incredible overclocking abilities, thanks in part to acquiring Oscar Wu from Abit. Expanding from these high-end LAN Party series is its complement, the Infinity, which is designed to incorporate rock solid stability and provide enthusiast-grade components. DFI has been slow to adopt Intel's latest Chipsets (i955X/975X) for its few LGA-775 products but on the AMD Socket 939 side of things, they have used the latest-and-greatest from NVIDIA in the form of the nForce4 MCP. The product we have under our microscope today is the DFI Infinity NF4 Ultra, which of course is powered by the NVIDIA nForce4 Ultra. This ATX motherboard has been around for some time now, however, today at Phoronix is our investigation with this Athlon 64/Sempron supportive productt and is the first public look at the motherboard running Linux. Other than using the NVIDIA nForce4 Ultra Chipset, it features four DDR-400 DIMM slots as well as IEEE-1394 Firewire with one PCI Express x16 and two PCI Express x1 slots. Although we had faced some issues with various DFI LAN Party and LAN Party UT motherboards under Linux, how will DFI's NF4 Ultra Infinity fair? Well, we have the answer for you today.
Features:
CPU
· AMD Athlon 64 X2 / Athlon 64 FX / Athlon 64 / Sempron
· Socket 939
Chipset
· NVIDIA nForce4 Ultra
· 2000MT/s HyperTransport interface
Memory
· Four 184-pin DDR SDRAM DIMM sockets
· Supports dual channel (128-bit wide) memory interface
· Supports up to 4GB system memory
· Supports PC2100 (DDR266), PC2700 (DDR333) and PC3200 (DDR400) DDR SDRAM DIMM
BIOS
· Award BIOS
· 4Mbit flash memory
Power Management
· Supports ACPI STR (Suspend to RAM) function
· Wake-On-PS/2 Keyboard/Mouse
· Wake-On-USB Keyboard/Mouse
· Wake-On-LAN
· Wake-On-Ring
· RTC timer to power-on the system
· AC power failure recoveryAC power failure recovery
Hardware Monitor
· Monitors CPU/system temperature
· Monitors VCC3/12V/3.3V/5VSB/Vbat voltages
· Monitors the speed of the cooling fans
· CPU Overheat Protection function monitors CPU temperature during system boot-up
Audio
· 6-channel audio CODEC
· S/PDIF-in/out interface
LAN
· Vitesse VSC8201 Gigabit Phy
· Fully compliant to IEEE 802.3 (10BASE-T), 802.3u (100BASE-TX) and 802.3ab (1000BASE-T) standards
IDE
· Supports two IDE connectors that allows connecting up to four UltraDMA 133Mbps hard drives
· NVIDIA RAID allows RAID arrays spanning across Serial ATA and Parallel ATA
· RAID 0 and RAID 1
Serial ATA with RAID
· Supports four Serial ATA ports
· SATA speed up to 3Gb/s
· NVIDIA RAID allows RAID arrays spanning across Serial ATA and Parallel ATA
· RAID 0 and RAID 1
IEEE 1394
· VIA VT6307
· Supports two 100/200/400 Mb/sec ports
PCB
· ATX form factor
· 22cm (8.66") x 30.5cm (12")
Contents:
With the LAN Party line-up still reigning supreme among DFI's products, the Infinity series is largely designed with keeping the end-user price in mind. With the price being an important matter, the retail packaging is bare compared against some of the previous DFI products we have reviewed. The contents manifest for the NF4 Ultra Infinity consisted of the system motherboard, user's manual, IDE cable, floppy cable, two Serial ATA cables, nVRAID driver disk, I/O shield, and motherboard utility CD. The contents with the retail packaging are certainly minimal compared against the luxurious accessories with the LAN Party products and those from other tier one manufacturers. On the outside of the container is a wealth of various logos, features, and other items to fancy the packaging. In addition to the NF4 Ultra Infinity, there is the NF4 SLI Infinity, which supports NVIDIA's Scalable Link Interface at x8 speeds.