SunbeamTech Chromatic Windmill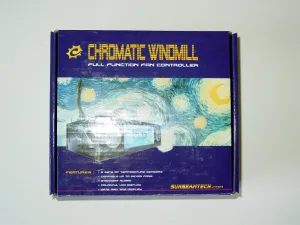 Late last week we had the opportunity from SunbeamTech to review their latest offering, the Pro-Series Lite Up Keyboard, which was a conventional keyboard with the addition of an EL-wire and several multimedia keys. Although this keyboard looked nice on paper, when we had it out in our labs our feelings for it soon turned sour. The product was quite innovative with its 133-keys, most of which were illuminated, but it still held a few significant flaws. Fortunately, SunbeamTech is again back with us today as we check out their latest product when it comes to 5.25" multi-function panels. The item up for review today is the SunbeamTech Chromatic Windmill.
Features:
· Display in year, month, date and time
· Set for the years from 2002 to 2009, time shown in 12-hour format
· Three sets of temperature sensors
· Overheat Alarm (default at 65°C) with sound alert
· Able to set up your own alarming temperature
· Overheat indicator
· Takes care of 7 fans at the same time
· Fan speed sensor
· Error indicator: sound alert and flashing signal
· Fan status illustration
· Fan speed controller
· Flashing HDD signal for hard disk reading/writing
Contents:
Similar to the SunbeamTech Pro-Series Lite Up Keyboard, the Chromatic Windmill arrived in a simple yet attractive package. On the cardboard packaging is a wealth of information pertaining to the device; such as the features and specifications. Found safely housed inside of the packaging was the seven fan extension cables, three thermal sensor cables, one HDD LED cable, one power cable, two batteries, a user's manual, and the mounting screws. Unfortunately, the included user's manual is only one-sided and contains only a very small amount of useful information, anyhow, most any competent computer enthusiast should have no troubles installing the Chromatic Windmill. Fortunately, however, SunbeamTech managed to include two batteries for the device with one of them being used for back-up purposes. Similar to the battery employed on the Thermaltake HardCano 13, the battery is used to store all of the settings for the device when the computer is powered off. These settings include everything from the date and time to the alarm parameters. As with most of the products we review, the Chromatic Windmill is available in both black and silver versions.
Start your training off right with pass4sure 70-237 practice test - a virtual 646-223 boot camp that will prepare you to pass BCCPA exam right away.