Show Your Support: This site is primarily supported by advertisements. Ads are what have allowed this site to be maintained on a daily basis for the past 18+ years. We do our best to ensure only clean, relevant ads are shown, when any nasty ads are detected, we work to remove them ASAP. If you would like to view the site without ads while still supporting our work, please consider our ad-free Phoronix Premium.
How Ubuntu 16.04 Is Performing Compared To Five Other Linux Distributions
As it's been a month since our last large Linux distribution comparison (a 10-way Linux distribution battle), here are some fresh benchmarks of six Linux distributions to see how their out-of-the-box performance compares. From a Core i7 Broadwell system, the updated versions of Clear Linux, Fedora 23, CentOS 7, openSUSE 42.1, Ubuntu 15.10, and Ubuntu 16.04 LTS were compared.
The distribution comparison this month took place on an Intel Core i7 5775C (Broadwell) system with Iris Graphics. The same system with i7-5775C, MSI Z97-G45 GAMING motherboard, 16GB of RAM, and 120GB Crucial SSD were tested when doing clean installations of each of these six Linux distributions.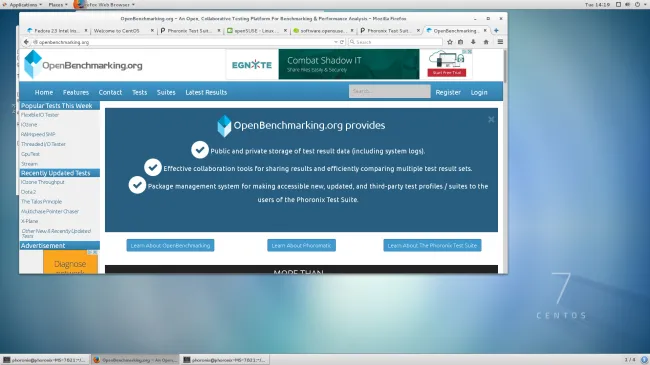 Everything was tested out-of-the-box as usual. (For new readers, the CPU frequency was maintained the same throughout; with the system graph the clock speed difference is just different since Clear Linux was using the ACPI CPUFreq scaling governor on Clear Linux while the others were using P-State. The P-State governor reports the turbo speed via sysfs while CPUFreq reports the base clock frequency.)
To simplify some of the prominent differences between these six Linux operating systems:
- Intel's Clear Linux 6430 distribution used the Linux 4.4.2 kernel, GCC 5.2.0 compiler, and used an EXT4 file-system by default. Clear Linux was the only distribution defaulting to the CPUFreq performance governor rather than P-State. Clear Linux was one of the major winners of the last comparison as it's a server-oriented distribution by Intel that prides itself upon high performance with taking some rather aggressive defaults and other optimizations.
- Fedora 23 is currently up to the Linux 4.3.5 kernel, GCC 5.3.1 compiler, and an EXT4 file-system by default. For graphics tests there is Mesa 11.1.0.
- CentOS 7 uses the Linux 3.10 kernel, GCC 4.8.5, Mesa 10.6.5, and defaults to an XFS file-system.
- OpenSUSE 42.1 Leap has the Linux 4.1 kernel, GCC 4.8.5, and its home directory is an XFS file-system from where the benchmarks were conducted. Mesa 11.0.8 is available on OpenSUSE 42.1. OpenSUSE along with Ubuntu were the distributions in this comparison defaulting to the deadline I/O scheduler while the others were using CFQ by default.
- Ubuntu 15.10 has the Linux 4.2 kernel, GCC 5.2.1, and Mesa 11.0.2. Ubuntu uses EXT4 by default.
- Ubuntu 16.04 in its current development state has the Linux 4.4 kernel, GCC 5.3.1 compiler, EXT4 file-system, and Mesa 11.1.2.
All of these Linux distribution benchmarks were carried out in a fully-automated and reproducible manner using the open-source Phoronix Test Suite benchmarking software.