We Rely On Your Support: Have you heard of Phoronix Premium? It's what complements advertisements on this site for our premium ad-free service. For as little as $3 USD per month, you can help support our site while the funds generated allow us to keep doing Linux hardware reviews, performance benchmarking, maintain our community forums, and much more. You can also consider a tip via PayPal.
Triplett 3526-B Digi-Probe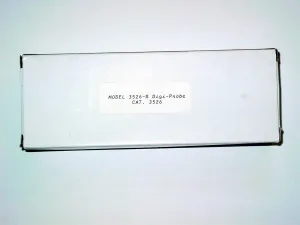 Although we aren't medical electronic technicians who require a vitally accurate digital multimeter as a human life is potentially at risk, an accurate reading multimeter is necessary when it comes to general computing. Today for testing at Phoronix we have a 3526-B Digi-Probe digital multimeter from Cable Organizer. This multimeter is from Triplett, the same folks that have delivered the Line-Bug 4 Phone/LAN Tester, Fox 2 Hound 2, Sniff-It, Plug-Bug, and the DT92 digital multimeter, all of which have been previously tested at Phoronix.
Features:
· Large 3200 count high(0.6" high)contrast LCD
· 32 segment bargraph
· 5 DC voltage ranges
· 5 AC voltage ranges
· 2 DC current ranges
· 2 AC currrent ranges
· 6 resistance ranges
· Logic test
· Diode test
· Continuity check
· Autoranging
· Data hold
· Range hold
· Low battery indication
· Auto Power Off
· Reversible safety probe tip (can be safely stored when not in use)
· UL listed, CE approved
· Uses 2 1.5V AAA batteries (included)
· 1-year manufacturer warranty against defects
Contents:
Unlike all of the previously reviewed Triplett products here at Phoronix, the 3526-B is the first product that arrived in a simple white cardboard box. Inside of this container was the multimeter, attachable negative probe, 3526-B instruction manual, spare fuse, and an attachable alligator clip to either probe. Protecting the positive probe was a small plastic tube.