We Rely On Your Support: Have you heard of Phoronix Premium? It's what complements advertisements on this site for our premium ad-free service. For as little as $3 USD per month, you can help support our site while the funds generated allow us to keep doing Linux hardware reviews, performance benchmarking, maintain our community forums, and much more. You can also consider a tip via PayPal.
Logisys Ergonomic Cool Fan Mouse & M-Coupe Optical Mouse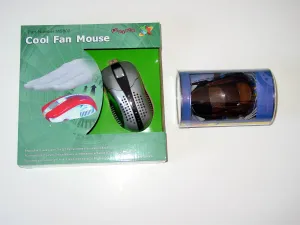 It used to be a mouse was simply a mouse, but since more demanding games and applications have been around, the traditional two-button ball mouse we all once used is no longer suitable. In fact, computer mice are becoming hotly contested, especially when it comes to the DPI race. Logitech has their flagship MX-1000 and MX-518 while Razerzone has their Boomslang and the soon to be reviewed Boomslang Plasma LE here at Phoronix. With one of the mice being modeled after a mini coupe and the other implementing a small fan, the mice up for testing today aren't any record-breakers but rather offer some useful features for the home user and computer enthusiasts. What we have here is the Logisys Silver Ergonomic Cool Fan Mouse USB/PS2 and the Logisys M-Coupe Black Optical Mouse.
Features:
· Optical 800dpi Mouse with Cooling Fan
· USB and PS2 Combination
· Switch: 60+/-15gf
· Ergonomic Optical Design, Exact Orientation
· Support Windows 95/98/2000/ME/NT/XP
· Plug and Play. No Driver needed.
· Integrated with Blue LED
· Safety and Quality Approval: CE FCC
· 800dpi Optical Mouse
· Two Button W/Blue LED Head Lights
· The wheel botton can be use as a 3rd botton
· Car Like Tail Lights
· 6 Feet Long Cord
· USB Interface
· Gift Package can be recycled as pen holder
Contents:
While the Logisys Cool Fan Mouse was packaged in a cardboard container, the M-Coupe came in a simple plastic cylinder. Inside each of these containers, all we found was strictly the mouse. There are no longer substantial needs to include driver disks, user's manuals, or other similar accessories. Both mice are USB compatible, but attached to the Cool Fan Mouse was a USB to PS/2 adapter. Both mice were relatively well packaged inside of the container and no damage had occurred to either mouse. Logisys also mentions the M-Coupe packaging can be used recycled as a penholder, but we personally wouldn't recommend that considering the poor plastic that makes up the packaging.