StarTech 2.5-Inch Aluminum External Disk Enclosure
While I have tested out many StarTech server racks at Phoronix, I have never checked out the company's computer peripherals. I ended up trying out their 2.5-inch aluminum external enclosure and have ended up liking it almost as much as their racks.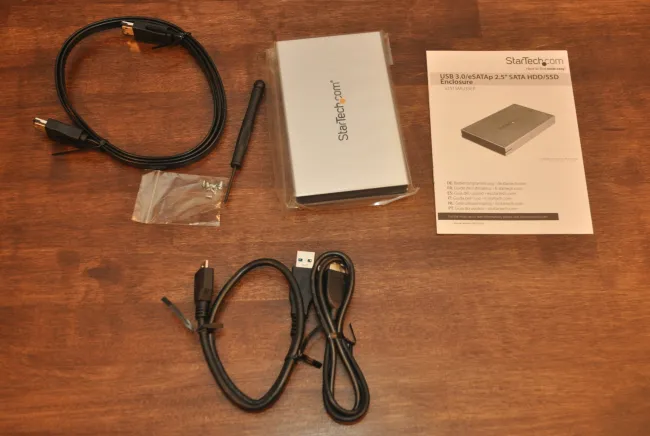 StarTech's 2.5-inch external hard drive enclosure supports SSD/HDDs and does support UASP (USB Attached SCSI Protocol) for delivering greater performance than the lower-end USB enclosures. This StarTech enclosure offers both USB 3.0 and eSATA ports albeit all of my testing is focused on USB 3.0 with eSATA sadly never having successfully took off.
Besides supporting UASP, this enclosure is also made of aluminum and feels fairly rugged, much better than the cheaper 2.5-inch disk enclosures.
The StarTech enclosure comes with a eSATA cable, USB 3.0 cable, USB power cable, installation screws, and the instruction manual.
Plugging in the enclosure to a Linux box reveals that it's using an ASMedia 0x1352 chipset for its connectivity. I have not run into any problems with this enclosure when trying it out on various Fedora and Ubuntu systems while using an SSD and USB 3.0 connectivity.