We Rely On Your Support: This site is primarily supported by advertisements.

Ads are what have allowed this site to be maintained for the past 16 years.

We do our best to ensure only clean, relevant ads are shown, when any nasty ads are detected, we work to remove them ASAP. If you would like to view the site without ads while still supporting our work, please consider our ad-free Phoronix Premium. You can also consider a tip via PayPal.
Ubuntu 12.04 vs. Windows 7: Intel Sandy/Ivy Bridge Loses On Linux
As this Windows 7 vs. Ubuntu 12.04 graphics comparison for Intel Sandy/Ivy Bridge hardware was getting underway, I certainly did not expect to see the Intel Linux graphics driver be slaughtered so badly. It was just last year that for Sandy Bridge the Linux driver was able to outpace the Windows OpenGL driver for several OpenGL workloads. Since then, the Intel OTC developers have been aggressive to round out the Sandy Bridge feature-set, get rolling early on Ivy Bridge support so that there's effective "out of the box" support at launch (they were successful with the stock Ubuntu 12.04 / Fedora 17 software packages supporting Ivy Bridge hardware), and catching up with OpenGL compliance and other areas. However, the Windows developers at Intel have also evidently been quite aggressive in their work too over the past year.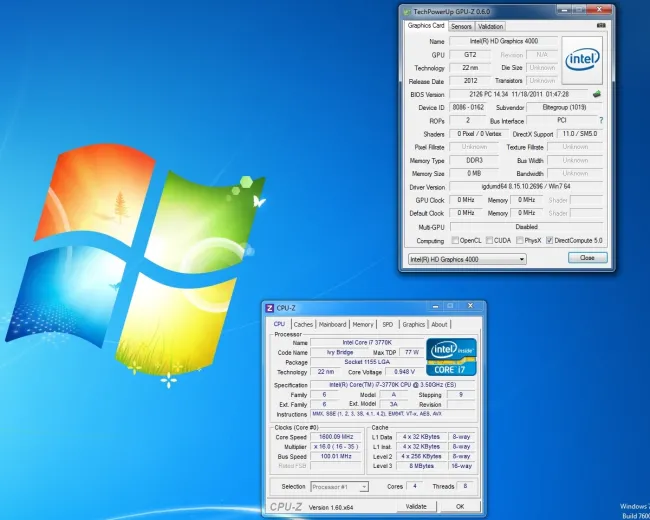 The only cross-platform game where there was similar performance between Windows 7 and Ubuntu 12.04 for Intel HD 3000/4000 graphics was with Nexuiz. With the other tested OpenGL games/benchmarks, the Windows 7 driver led to frame-rates that were commonly 50~80% higher than what was provided by the open-source Intel Linux driver.
Beyond the Intel Windows driver being faster, it has better OpenGL support too. The Intel Linux developers working on Mesa are still battling for OpenGL 3.1 feature compliance, which they hope to have ready this summer for the Mesa 8.1 release. The open-source Intel Linux driver also still is not able to ship with support by default for S3TC texture compression or floating-point textures due to patent fears. The Intel Linux graphics driver stack at this point also has no support for OpenCL with Ivy Bridge, among other missing features and functionality.
Hopefully with Valve's interest in Linux on the client side we will see some greater resources devoted to the Linux graphics drivers and some of these issues addressed. As it stands now, Ivy Bridge graphics under Linux probably wouldn't be able to handle the Source Engine -- certainly at least not in any out-of-the-box configuration with no S3TC support and the Intel Linux driver performance falling far short of Windows. The Intel OTC developers are certainly interested in improving the situation, and I have already gotten them eloped with Valve.
Stay tuned for the Windows 7 vs. Ubuntu 12.04 benchmarks on AMD Radeon and NVIDIA GeForce hardware coming up next. If you missed the earlier articles, check out the Intel Core i7 3770K Linux benchmarks and Intel HD 4000 Ivy Bridge Graphics On Linux.
If you enjoyed this article consider joining Phoronix Premium to view this site ad-free, multi-page articles on a single page, and other benefits. PayPal tips are also graciously accepted. Thanks for your support.