The Interesting Tale Of AMD's FirePro Drivers
Earlier this week we published our annual look at AMD's Catalyst driver releases from the past year. Not only did the Catalyst Linux driver this year picked up a couple new features, its driver performance had improved slightly over the past twelve months. In building up some initial test data for OpenBenchmarking.org we decided not only to do these tests on the latest consumer-grade graphics card this year, but expand it to cover the workstation performance too and to go back nearly two years in time. These results for an AMD FirePro V8700 graphics card with the monthly driver updates going back to Catalyst 9.2 are quite interesting. AMD announced twice this year optimizations to their FirePro driver software, but in reality these "optimizations" were largely unsustainable and not optimizations as much as they were attempting to address driver regressions from the past.
Using the FirePro V8700 1GB graphics card every Catalyst driver release was tested. From Catalyst 9.2, which arrived a month before the V8700's launch in March of 2009, to Catalyst 10.12 we benchmarked every month's driver update. With our annual year-in-review articles for NVIDIA and ATI/AMD Linux drivers we have only focused up to this point on the consumer GeForce / Radeon hardware so we figured it would be interesting to see how things change when it comes to the workstation hardware (i.e. FirePro/FireGL). To go back with nearly two years worth of driver releases, we used the FirePro V8700 that is derived from the ATI RV770 core. Using the newer Evergreen-based FirePro V8800 or its siblings (the V7800, V5800, V4800, V3800) would have only allowed us to use drivers dating back to earlier this year. There is also the AMD FirePro V9800 too, but that is only a few months old.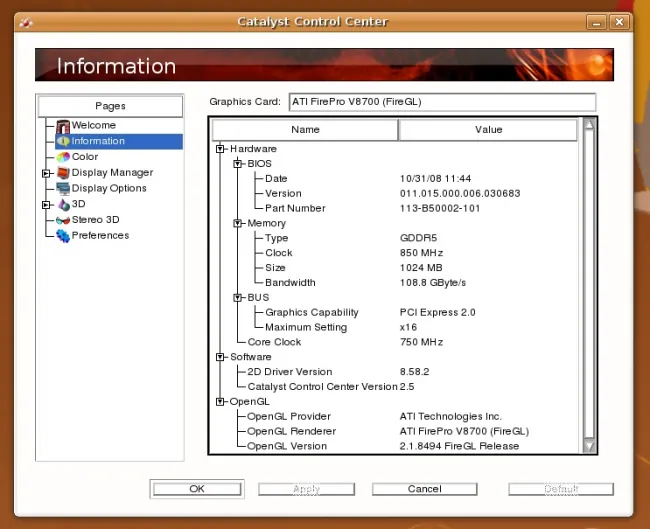 Looking at the historical FirePro driver performance would also be interesting since twice this year AMD made two major workstation driver optimizations. In March, they made some major driver gains as we were able to confirm and then a second set of optimizations in July to further enhance the performance. Though with those tests we did when AMD mentioned to us the improvements, we were using the newer FirePro graphics cards. Worth noting beforehand is that officially AMD does not release new workstation drivers monthly but rather quarterly. However, their unified monthly Catalyst updates geared for their consumer GPUs are completely compatible with FirePro hardware, it's just that their quarterly "official" FirePro driver updates receive additional testing and validation.
Our Linux workstation used for carrying out this FirePro V8700 1GB driver testing boasted dual AMD Opteron 2384 "Shanghai" Quad-Core CPUs, a Tyan S2932 motherboard, 4GB of DDR2 ECC Registered memory, and a 160GB Western Digital SATA HDD. Going back to test the very old drivers that lack support for the newer versions of the Linux kernel and X.Org Server, we used Ubuntu 8.04.4 LTS as the base operating system. Ubuntu 8.04.4 LTS 64-bit was used with the Linux 2.6.24 kernel, GNOME 2.22.3, X.Org Server 1.4.0.90, GCC 4.2.4, and an EXT3 file-system. Every driver release from Catalyst 9.2 (fglrx 8.58.2 / OpenGL 2.1.8404) to Catalyst 10.12 (fglrx 8.80.5 / OpenGL 3.3.10362).
The OpenGL workstation benchmarks used included SPECViewPerf 9.0 and SPECViewPerf 10.0 with a variety of view-sets. From the Phoronix Test Suite we also used Lightsmark, Nexuiz, X-Plane 9, Unigine Sanctuary, and Unigine Tropics for additional performance reference with each monthly ATI/AMD proprietary driver.