51 GPUs Tested, From The Radeon HD 2900XT To RX 580 & R9 Fury: Testing The 2017 Linux Driver Stack
Lastly, for those curious how the GPU temperatures were for the cards with integrated thermal sensors... Here's a look with the data for the duration of the OpenGL benchmarking process.
And the AC system power consumption when each of these graphics cards were tested in the Core i7 7700K box. The Phoronix Test Suite was polling the AC system power use via a WattsUp Pro power meter.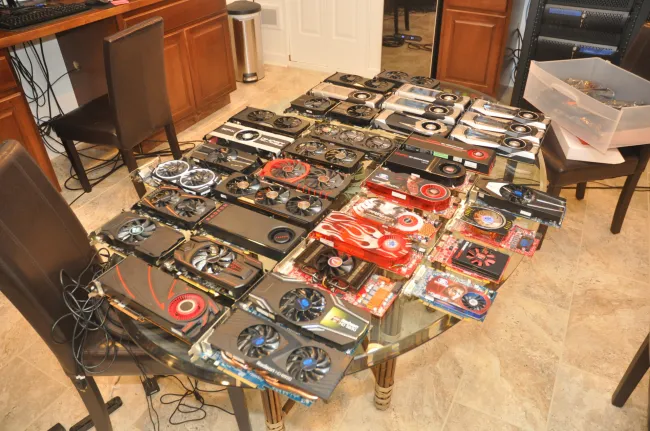 I hope you enjoyed these fun benchmark results if curious roughly how the Radeon/NVIDIA performance has evolved over the past number of hardware generations while using the newest Linux drivers available. Overall, the vintage Radeon GPUs continue advancing via open-source and still overall are working fine with the Linux 4.12 kernel and Mesa 17.2-dev.
If you enjoy all these sorts of Linux hardware comparisons, reviews, and benchmarks I single-handedly do at Phoronix, consider joining the premium program during the birthday special with Phoronix turning 13 years old next week. Through advertisements and the premium program is the only way Phoronix can continue, especially with this article being a great example as much of the newer AMD GPUs in this article had to be purchased over time and were not all review samples. Thanks for your support over the past 13 years.
If you enjoyed this article consider joining Phoronix Premium to view this site ad-free, multi-page articles on a single page, and other benefits. PayPal tips are also graciously accepted. Thanks for your support.