System76 Pangolin Makes For A Nice All-AMD Linux Laptop
I spent the past few weeks testing the latest System76 Pangolin laptop that has been working out well as an all-AMD 15-inch laptop running the company's increasingly-popular Pop!_OS Linux distribution.
The System76 Pangolin features an AMD Ryzen 7 6800U "Rembrandt" SoC with integrated Radeon 680M graphics. The 7800U provides 8 cores / 16 threads for this Zen 3 + RDNA2 design with clock speeds up to 4.7GHz. System76 only recently introduced this Pangolin design, which is a bit unfortunate considering the number of AMD Phoenix laptops expected to launch over the coming weeks/months. This would be my main frustration with the unit is it launching this year and so close to that of next-gen AMD laptops beginning to appear with Zen 4 CPU cores and RDNA3 graphics. In any event, the Ryzen 7 6800U remains a very capable mobile processor but for those always after the latest-and-greatest the timing is a bit unfortunate.
The System76 Pangolin features a 15-inch 1080p display while making it more interesting is that there is a 144Hz refresh rate. This laptop supports up to two NVMe M.2 SSDs and up to 32GB of LPDDR5-6400 memory.
Connectivity on the System76 Pangolin features three USB 3.2 Gen1 Type-A ports, one USB 3.2 Gen 2 Type-C connectors, SD card reader, Gigabit Ethernet, WiFi 6E, Bluetooth 5.2, and HDMI 2.0. The range of connectivity is great especially with still featuring a physical HDMI 2.0 port as well as Gigabit Ethernet compared to many ultra-thin designs foregoing those connections. There is also a Kensington Lock slot still on this laptop that is nice to see for those frequent travelers or in shared work environments.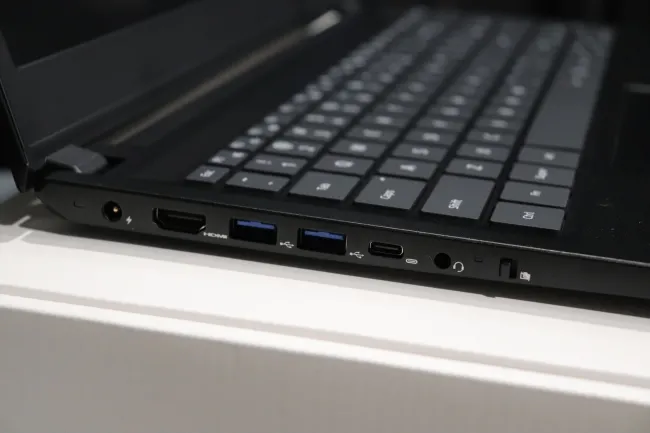 The web camera with the Pangolin is a 1.0MP 720p HD web camera that isn't particularly special but gets the job done. The Pangolin relies on a 65 Watt barrel charger that is included by default. It would be great if System76 would just default to USB Type-C charging on their future models, but alas still the older charger while the Pangolin does support Type-C charging. I was having some Type-C charging issues primarily when using various Dell USB-C chargers but System76 is looking into it and may be isolated to just this review unit.
The System76 Pangolin (pang12) measures in at 37 x 24.7 x 1.8 cm and weighs 1.79 kg / 3.95 lbs. By default Pop!_OS 22.04 LTS was running on the Pangolin while System76 also offers Ubuntu 22.04 LTS as an option.