SilverStone HDDBOOST
While SilverStone has long been revered for their range of uniquely high-end computer enclosures like the Fortress FT02, Temjin TJ10, and Sugo SG04 all with original designs, occasionally they have dabbled with other products outside of their computer enclosure and power supply expertise. We previously have reviewed such products like the SilverStone Raven mouse and an RFID-secured SSD/HDD enclosure, but their newest peripheral in this area is by far the most unique product that we have encountered from SilverStone. The SST-HDDBOOST product allows you to connect a solid-state drive and a traditional hard-drive via their custom PCB to experience the benefits of both types of storage.
SilverStone advertises the HDDBOOST as being a unique product to build a "virtual super storage solution." by combining a solid-state drive with a hard drive. The HDDBOOST is said to offer performance improvements of up to 70% and to "enable SSD speed on its host hard drive and reduce the write times to SSD's more fragile flash-based storage system, thus extending its effective lifetime." The SST-HDDBOOST is meant to be easy to benefit from with a simple installation process and the hard drive not needing to be reformatted or reconfigured when switching over to this device.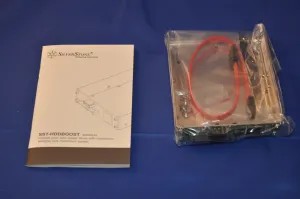 The HDDBOOST arrived in a very small cardboard box that was not nearly as elaborate as other SilverStone product packages. Within the box was the SST-HDDBOOST user's manual, the device itself that fits within a 3.5-inch drive bay, one Serial ATA data cable, and mounting screws.