A Six Month Redux After Building A 60+ System Basement Server/Computer Room
It's been just over six months since I completed construction on the large 60+ system server room where a ton of Linux benchmarking takes place just not for Phoronix.com but also the new LinuxBenchmarking.com daily performance tracking initiative and testing and development around our Phoronix Test Suite, Phoromatic, and OpenBenchmarking.org software. Here's a look back, a few recommendations to reiterate for those aspiring to turn their cellar into a server farm, and a few things I'd do differently next time around.
For those that missed the original article, back in March I wrote about turning a basement into a big Linux server room. Just over six months ago the room looked like this:
Then after a few weeks of hard work on my third passion in life after computers/Linux and Bavarian beer: building/construction... The room upon initial completion looked like this:
Now just over six months later, here's the current state of the server farm: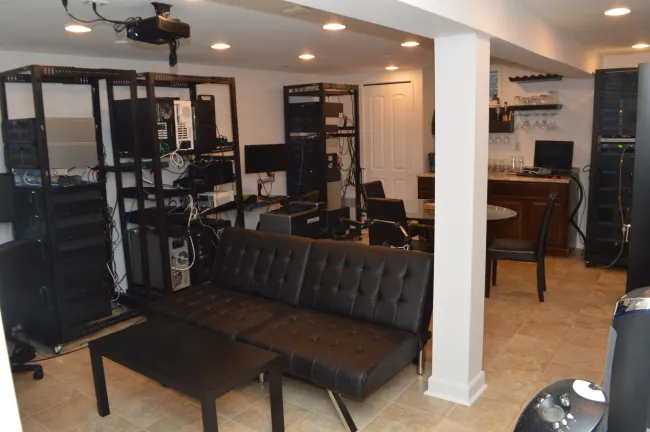 A few more systems have been added with a fourth 42U rack, I ended up adding another 15 Amp circuit, various tweaks to try to better handle the cooling situation, etc.
I continue to be happy with the racks, which are all 42U StarTech.com server racks. They're the best value I've found while being built very well and overall super happy with them. Recently I also added a StarTech.com 25U rack to my front/main office area and was happy with it too.
The wife is happy too with all of the stationary systems being in this better-organized server room plus bar, than being strewn about while in my front office are still the systems I'm re-configuring constantly for various Phoronix.com tests.