Show Your Support: Did you know that the hundreds of articles written on Phoronix each month are mostly authored by one individual? Phoronix.com doesn't have a whole news room with unlimited resources and relies upon people reading our content without blocking ads and alternatively by people subscribing to Phoronix Premium for our ad-free service with other extra features.
September 2018 Drivers: The Current Linux Performance & Perf-Per-Watt From NVIDIA Kepler To Pascal vs. AMD
There is one week to go until NVIDIA begins shipping the GeForce RTX 2080 "Turing" series but while waiting for that hardware, here is a look back at how various graphics cards are performing for Linux games from the GTX 1000 Pascal series back through the GTX 600 Kepler series. On the AMD side in this comparison is also going from Vega back to the GCN 1.0 Southern Islands. The Vulkan/OpenGL Linux gaming performance is being looked at as well as the overall system power consumption and performance-per-Watt.
This article is intended to provide some fresh historical reference figures of how Kepler to Pascal is performing using the very newest Linux driver release, the NVIDIA 396.54 driver, which is notable by itself due to having the significant performance regression fixed that had been happening since the 390 driver series. On the AMD side, tests were done using the Linux 4.19 Git kernel for the newest AMDGPU bits as well as using Mesa 18.3-dev built against Mesa 18.3-dev with the LLVM 8.0.0 AMDGPU SVN back-end via the Padoka PPA.
Ubuntu 18.04 was on this test system, which was made up of an Intel Core i7 8086K processor, ASUS PRIME Z370-A motherboard, 16GB of RAM, Intel 120GB NVMe SSD, and 4K display. The graphics cards tested for this comparison based upon the hardware I had available during the testing time included:
- Radeon HD 7950
- Radeon R9 290
- Radeon RX 580
- Radeon R9 Fury
- Radeon RX Vega 56
- Radeon RX Vega 64
- GeForce GTX 680
- GeForce GTX 780 Ti
- GeForce GTX 970
- GeForce GTX 980
- GeForce GTX 980 Ti
- GeForce GTX TITAN X
- GeForce GTX 1060
- GeForce GTX 1070
- GeForce GTX 1070 Ti
- GeForce GTX 1080
- GeForce GTX 1080 Ti
I didn't go back further than GCN 1.0 or Kepler due to many of the Linux games now being Vulkan-based. Again, all tests were done using the 396.54 driver on the NVIDIA side and on the Radeon side was Linux 4.19 Git + Mesa 18.3-dev for the newest possible driver experience. All of these Linux gaming benchmarks were conducted via the Phoronix Test Suite. The AC system power consumption was polled by the Phoronix Test Suite using a WattsUp Pro power meter in order to query the real-time power usage during the benchmarking process.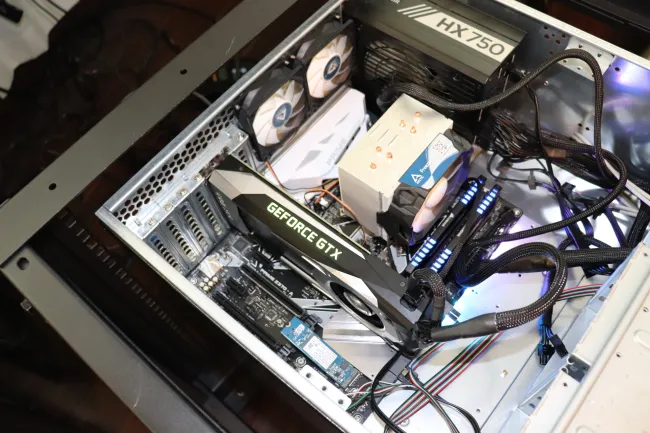 If you enjoy all of my daily Linux benchmarks consider showing your support by joining Phoronix Premium or making a PayPal tip. Premium allows you to view multi-page articles on a single page (such as this article), an ad-free experience, and other benefits. Your support is particularly appreciated as it looks like I'll be left having to buy the RTX 2080 series in order to deliver Linux performance testing as NVIDIA seems to remain uninterested in Linux coverage for this RTX 2080 / Turing launch (and NVIDIA's AIB partners remaining less than interested in the admittedly small Linux gaming market potential).