Samsung 850 EVO SSD Linux Benchmarks
The latest solid-state drive being added to one of our Linux test farm systems is the Samsung 850 EVO. Prior to commissioning this drive in one of the systems, I ran some benchmarks against a few other solid-state drives while testing with the EXT4 file-system on Ubuntu Linux.
Like with the recent Linux SSD tests of the OCZ ARC 100 and Transcend SSD370, the Samsung 850 EVO was just another solid-state drive I had purchased for one of our regression-finding Linux test systems as opposed to being a review sample. As such, just tossing a few benchmarks of this new SSD out there for those interested as opposed to being an exhaustive review. Using the Phoronix Test Suite with this data hosted on OpenBenchmarking.org you can also see how your own system's disk performance compares to the 850 EVO and few other SSDs used in the comparison.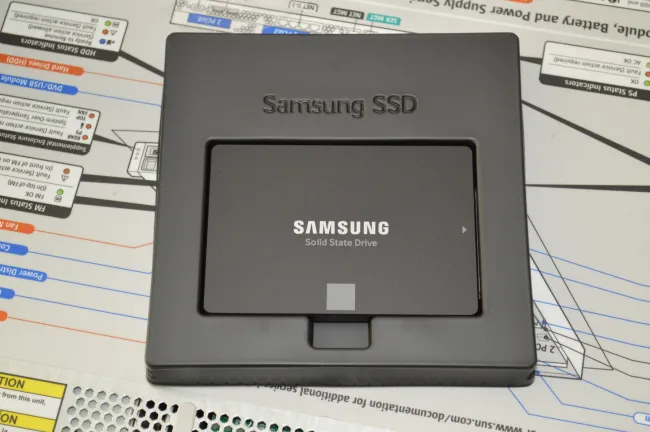 The 850 EVO I ordered was the 120GB version that goes for about $80 USD while there's also 250GB, 500GB, and 1TB versions of this latest Samsung solid-state drive. The Samsung 850 EVO MZ-75E120B/AM is rated for sequential reads up to 540MB/s and sequential writes up to 410MB/s. The 4KB random reads are up to 94,000 IOPS and the 4KB random writes up to 88,000 IOPS.
This solid-state drive uses the Samsung MGX controller and Samsung's 32-layer 3-bit 3D V-NAND memory. Samsung backs the 850 EVO with a five-year warranty.
The Samsung 850 EVO was tested from an Ubuntu 15.04 x86_64 development system running the Linux 3.18 kernel and the drives were formatted to EXT4 and mounted with the default mount options. The drives compared for this basic Linux SSD comparison were the OCZ Vertex 3 240GB, Transcend SSD 370 256GB, OCZ Solid 2 64GB, Intel SSD 530 120GB, OCZ ARC 120GB, and the Samsung 850 EVO 120GB. All benchmarks were handled by the Phoronix Test Suite.