Show Your Support: Did you know that you can get Phoronix Premium for under $4 per month? Try it today to view our site ad-free, multi-page articles on a single page, and more while the proceeds allow us to write more Linux hardware reviews. At the very least, please disable your ad-blocker.
RadeonSI's Gallium3D Driver Performance Has Improved Massively In The Past Year
As some more exciting benchmarks to carry out this US holiday week, here are benchmarks of all major Mesa releases from Mesa 11.0 from mid 2015 through the latest Mesa 13.1-dev code as of this week. Additionally, the latest AMDGPU-PRO numbers are provided too for easy comparison of how the open-source AMD GCN 3D driver performance has evolved over the past year. It's a huge difference!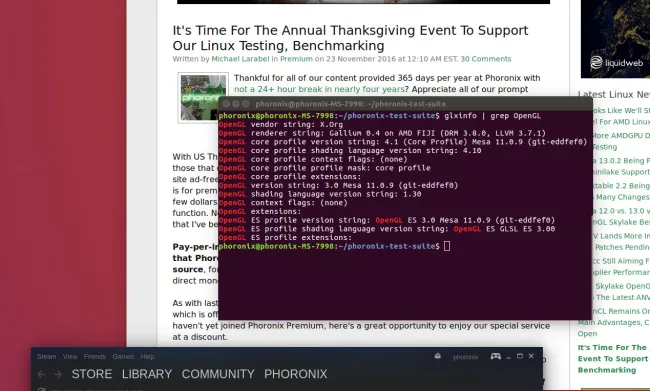 For this testing a Radeon R9 Fury was used for benchmarking all these Mesa releases plus AMDGPU-PRO 16.40. During the testing process the same Ubuntu 16.04 LTS x86_64 system was used for testing and was powered by the Linux 4.9 kernel (except when testing AMDGPU-PRO where falling back to Linux 4.4 due to its DKMS module). The only change made between each of the test runs was changing out the Mesa version. When changing the Mesa version, however, the LLVM version sometimes needs to be adjusted for compatibility. With each Mesa release I used the newest LLVM version possible that was compatible with the release. This means Mesa 13.1-dev was built against LLVM 4.0 SVN, 13.0.1 against LLVM 3.9, 12.0.4 against LLVM 3.9, Mesa 11.2 against LLVM 3.8, and then Mesa 11.0/11.1 against LLVM 3.7.1. Aside from that, the same Mesa build configuration was used each time.
A variety of OpenGL benchmarks that are supported by the Phoronix Test Suite and serve as good test candidates were used for this Mesa version comparison.
Aside form just looking at the raw performance, it's important to note with Mesa 11.0 there was just OpenGL 4.1 for RadeonSI, OpenGL 4.3 finally happened for Mesa 120, and then OpenGL 4.5 is now possible with Mesa 13.1-dev. Also in this time of Mesa 11.0 to present has been the introduction of the RADV Radeon Vulkan (unofficial) driver and other improvements to the RadeonSI driver code. Now that RadeonSI is basically caught up with the OpenGL specification, we are finally seeing more investments by AMD into further optimizing the driver performance. Hopefully in 2017 these numbers will look even better for this fully-open driver stack. Let's check out the current results.