Show Your Support: Did you know that you can get Phoronix Premium for under $4 per month? Try it today to view our site ad-free, multi-page articles on a single page, and more while the proceeds allow us to write more Linux hardware reviews. At the very least, please disable your ad-blocker.
Phoronix Test Suite 0.2 Adds New Features
Less than a week ago we pushed out the first public release of the Phoronix Test Suite. This GPLv3 Linux benchmarking software had received a great deal of interest, but v0.1 did have a few bugs and a number of uncompleted features. Yesterday though we pushed out version 0.2 of the Phoronix Test Suite with a number of improvements, new benchmarking profiles, and other changes. In addition to noting some of the improvements made in this release, there are also other Phoronix Test Suite highlights to share from this past week.
Starting with the benchmarking profiles and test suites, a Super PI profile has been added thanks to the work of Pekka Panula. Super PI is a benchmark that measures the time to calculate Pi to one million digits. This test can be executed by running phoronix-test-suite benchmark super-pi. Bandwidth has also been added as a new benchmark profile. Bandwidth is similar to RAMspeed for measuring system memory performance and it's also capable of benchmarking the CPU's Level 2 cache. A system memory test suite (named "system-memory") has been introduced, which currently is made up of RAMspeed and Bandwidth benchmarks. The Doom 3 (full client) and RAMspeed profiles have been fixed and should now be fully working with the Phoronix Test Suite v0.2. Furthermore, Jorg Schirottke (better known as Kano) has provided a number of patches for various profiles. Kano has been working to reduce the memory footprint of the Phoronix Test Suite and forming a benchmarking LiveCD based upon his Kanotix distribution. Albeit it's currently a git snapshot, the Kanotix PTS ISO can be downloaded here and includes Nexuiz and other free software packages.
Software and hardware detection has also been greatly improved with this latest release. The graphics card detection is now done through parsing the glxinfo output, which should yield in showing the proper names instead of just the PCI ID for unknown devices, but there is fallback support for recognizing the graphics card through listing all PCI devices. The OpenGL version and video driver are also now reported within the Phoronix Test Suite. Further enhancing the graphics side of the Phoronix Test Suite, the amount of video memory for both ATI and NVIDIA graphics cards is now detected. Those writing profiles for the Phoronix Test Suite can easily access the video RAM capacity via the VIDEO_MEMORY variable. This is especially important in id Software benchmarks, where their ATI video memory detection code hasn't worked as of late. Linux distribution detection has also improved for those distributions that aren't LSB (Linux Standards Base) compliant. CPU detection has also improved including the frequency recognition. The CPU's operating frequency is now displayed for all processors, which does show the speed even if the system is overclocked or is taking use of power saving technologies like Intel EIST or AMD Cool 'n' Quiet.
Improved in pts-core v0.2 is a user prompt offering the ability to auto upload the results after the test(s) are completed. Alternatively, you can continue to upload your results to PTS Global using the phoronix-test-suite upload <saved name> command. The user configuration file for the Phoronix Test Suite (user-config.xml) has also been moved to ~/.phoronix-test-suite/. The default locations for the benchmarking files and saved results are now ~/pts-benchmark-env and ~/pts-test-results, respectively. When running the Phoronix Test Suite, the user configuration XML is now validated with new options (when added).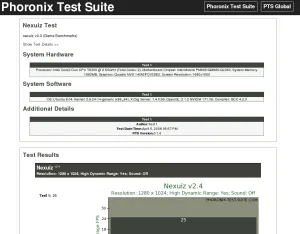 The local results viewer has also been improved in this release. The local XSL interface is similar to the PTS Global design. This area still has some tweaking and artistic improvements to go through, which should be addressed in Phoronix Test Suite v0.3. Among the other fixes include dropping the use of bcmath, stripping some redundant information from the hardware display information, cleaned up text output, and merge-results now can create and setup the test results folder (if needed). Compatibility checks have also been added when merging results.
Since releasing the Phoronix Test Suite we have received some great feedback -- some of which has already been incorporated -- and we continue to welcome new suggestions. We are also now working directly with a few different companies in providing official Phoronix Test Suite profiles for their software (more on that will come later). We have also received donations of server mirrors and other patches. If you would like to get involved with this Linux benchmarking platform, be sure to contact us. Phoronix-Test-Suite.com has received more than 40,000 unique visitors in the past week for this new open-source project.
In our announcement of the Phoronix Test Suite we had shared the PTS road-map, but we now have an addendum. While the Phoronix Test Suite 1.0 will be released this summer, the first stable release will be 0.4. Phoronix Test Suite 0.4 will be the first stable release that's ready for a production environment (including for Phoronix.com benchmarking) while the 1.0 release will represent the first feature-complete version. The Phoronix Test Suite stakeholders have made this decision. Version 0.4 is planned for a late April or early May release. The next release of the Phoronix Test Suite, v0.2.1, will come in one week or less.
Share your feedback on the Phoronix Test Suite in the Phoronix Forums and head on over to Phoronix-Test-Suite.com for download links and the global database.
If you enjoyed this article consider joining Phoronix Premium to view this site ad-free, multi-page articles on a single page, and other benefits. PayPal or Stripe tips are also graciously accepted. Thanks for your support.