Show Your Support: Have you heard of Phoronix Premium? It's what complements advertisements on this site for our premium ad-free service. For less than $4 USD per month, you can help support our site while the funds generated allow us to keep doing Linux hardware reviews, performance benchmarking, maintain our community forums, and much more.
OCZ Zee 4GB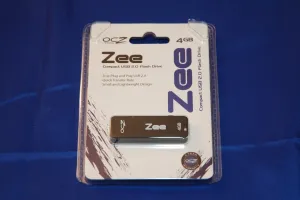 A few weeks back we reviewed the Corsair Flash Voyager 32GB. This 32GB flash drive was very nice just like Corsair's other flash memory products and it boasted an impressive capacity with great read/write speeds, but its price at over $100 USD is not for everyone. For those that can make do with a smaller capacity and are looking to just spend a few dollars in comparison, there is the OCZ Zee. The Zee flash drive is available in capacities up to 16GB, has a more conventional housing, and is backed by a two year warranty (in comparison to Corsair's ten-year backing), but the prices for the Zee USB 2.0 drivers are much more affordable.
The Zee USB 2.0 flash drives from OCZ Technology are available in 2GB, 4GB, 8GB, and 16GB capacities. The unit we happen to be testing out in this review is the 4GB version (OCZUSBZEE4G). The 4GB version can be found for about $12 USD while the 16GB version is going for around $30. OCZ Technology describes the Zee as just being USB 2.0 certified, offers mainstream speeds (though they refrain from providing specifics), lightweight casing, true plug and play, and a two-year warranty backs the flash memory product. There is nothing very special to look at here, but again, OCZ is really just targeting this at being a simple, mainstream offering. Included with the OCZ Zee 4GB was just the flash drive itself and no lanyard, driver CD (not that you need any, especially on Linux), product pamphlet, or any other materials.
We benchmarked this flash drive using the Phoronix Test Suite and using hdparm to get a quick read for its performance. This testing was done on a system running Ubuntu 9.10 with the Linux 2.6.31 (x86_64) kernel while on the hardware side was an Intel Core i5 750 processor and an Intel P55 motherboard and 4GB of DDR3 system memory. We compared the performance of this mainstream OCZ flash media offering against the Lexar JumpDrive Secure II+ 1GB, Transcend 2GB Flash Drive, the older OCZ Mega-Kart 8GB, and then the 8GB and 32GB Corsair Flash Voyager drives.
As you can see from the Phoronix Test Suite results, the performance of the OCZ Zee 4GB is far from being superior to even other low capacity, single-channel flash drives. The OCZ Zee is about twice as slow as the Corsair Flash Voyager series and OCZ's own Mega-Kart. At the end of the day, though the OCZ Zee is just a cheap flash drive with no special traits nor does it take the performance crown. The various OCZ Zee flash drives can be found at Amazon.
If you enjoyed this article consider joining Phoronix Premium to view this site ad-free, multi-page articles on a single page, and other benefits. PayPal or Stripe tips are also graciously accepted. Thanks for your support.