Intel Kaby Lake Linux Testing With MSI's Cubi 2 Mini PC
Kaby Lake mobile processors began shipping last month and while we've seen a number of laptop designs using these processors that succeed Skylake, so far the Intel NUCs haven't surfaced nor many other SFF PCs making use of the next-generation hardware. That changed last week with MSI's Cubi 2 powered by Kaby Lake CPUs beginning to ship. I've been testing an MSI Cubi 2 with Core i5 Kaby Lake processor under Ubuntu Linux and so far the experience has been pleasant. In this article are our first Kaby Lake Linux benchmarks.
On 4 November is when the MSI Cubi 2 with Kaby Lake CPUs began shipping at both Amazon.com and NewEgg. With being very curious about Intel Kaby Lake on Linux and the Cubi 2 being the cheapest way to get ahold of a KBL CPU for right now, I ended up buying the Core i5 7200U model for benchmarking on Phoronix. The Cubi 2 is around the same size as an Intel NUC and their Cubi2-006BUS model with Core i5 7200U retails for $380 USD while you still need to add in the DDR4 SO-DIMMs and SATA/M.2 storage.
Kaby Lake came around when Intel delayed the 10nm Cannonlake to H2'2017. Kaby Lake CPUs are manufactured on a 14nm process while offering higher clock speeds over similar Skylake models, native USB 3.1 Gen2 support is now present, support for Intel Optane technology, and improved 3D graphics / video are more pressing for Kaby Lake than any major CPU breakthroughs with this microarchitecture update. The Core i5 7200U mobile processor found in this Cubi 2 being benchmarked is a dual-core part plus has Hyper Threading, the base frequency is 2.50GHz, and the turbo frequency is 3.1GHz. The TDP of the i5-7200U is 15 Watts and this processor has a 3MB smart cache. The graphics on the Core i5 7200U are the HD Graphics 620 with a 300MHz base frequency and 1GHz maximum frequency.
This was my first time trying out a Cubi 2 -- or any MSI pre-built PC since the Wind Box Atom 330 days. The Cubi 2 concept is similar to the Intel NUC and is very easy to open up the device from the bottom and install the DDR4-2133 SO-DIMMs (up to 32GB) and 2.5-inch SATA SSD or mSATA SSD. The Cubi 2 does support a VESA-mount with included bracket, similar to the NUCs.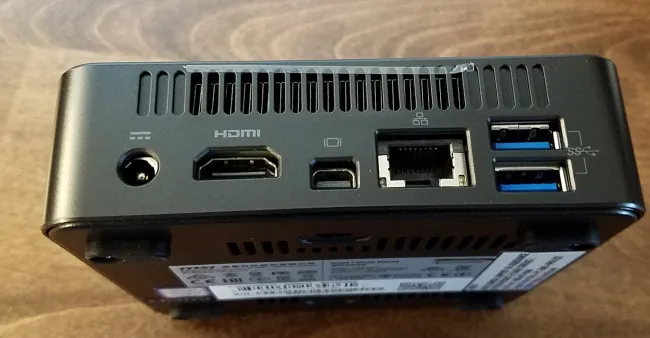 For wireless connectivity the device has an Intel 3168 M.2 WiFi adapter for 802.11ac WiFi support and Bluetooth 4.2. Video connectivity for the HD Graphics 620 are HDMI and a mini DisplayPort. 4K display was working fine for me with this device. This device also has a USB Gen 1 Type-C reversible connector.
If you are looking for something slower or faster, MSI's other Kaby Lake Cubi 2 models have a Core i7 7500U or Core i3 7100U while the other specifications remain the same.