Btrfs/EXT4/XFS/F2FS RAID 0/1/5/6/10 Linux Benchmarks On Four SSDs
Following the recent Btrfs RAID: Native vs. Mdadm comparison, the dual-HDD Btrfs RAID benchmarks, and four-SSD RAID 0/1/5/6/10 Btrfs benchmarks are RAID Linux benchmarks on these four Intel SATA 3.0 solid state drives using other file-systems -- including EXT4, XFS, and Btrfs with Linux 3.18.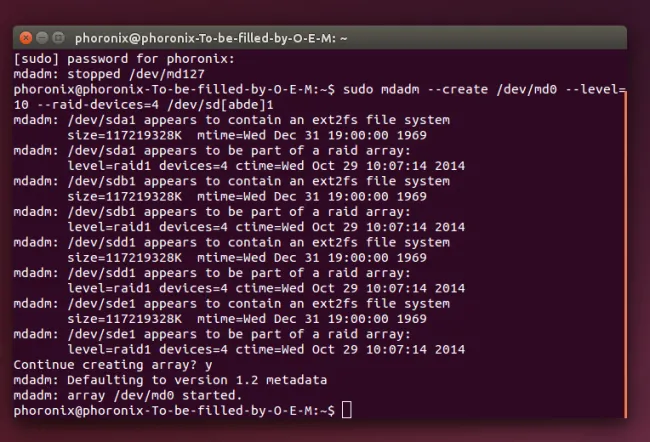 From the same system used as our recent Btrfs RAID testing, it's now time to see how other Linux file-systems are performing on the same hardware/software setup with a mdadm-established RAID array. EXT4, XFS, and F2FS were tested with their default mount options atop the mdadm array when setting it up at the RAID 0, 1, 5, 6, and 1+0 levels for the four Intel Series 530 SSDs.
The four Intel SSDSC2BW12 (Series 530) 120GB SSD drives also were compared to the previous native Btrfs RAID and mdadm Btrfs RAID numbers with using the same hardware and software. The RAID setup was on the Intel Core i7 5960X Haswell-E system with Gigabyte X99-UD4-CF motherboard, 16GB of RAM, and running Ubuntu 14.10. With Ubuntu 14.10 I had upgraded to the Linux 3.18-rc1 kernel prior to testing for the latest file-system kernel modules.
So to recap, Btrfs, EXT4, XFS, and F2FS were all tested with their default mount options when tested on a mdadm RAID array with levels of 0, 1, 10, 5, and 6. Btrfs was tested as well with its built-in/native RAID support at the same levels.
All of the disk benchmarks were facilitated via the open-source Phoronix Test Suite software. If you appreciate all of the Linux hardware testing done at Phoronix single handedly by myself, please consider subscribing to Phoronix Premium for helping out the site and for ensuring there's such interesting hardware comparisons going forward.