Intel Graphics On Ubuntu: GNOME vs. KDE vs. Xfce vs. Unity vs. LXDE
For those wondering how the Intel (U)HD Graphics compare for games and other graphical benchmarks between desktop environments in 2018, here are some fresh benchmarks using GNOME Shell on X.Org/Wayland, KDE Plasma 5, Xfce, Unity 7, and LXDE.
A fresh round of desktop gaming benchmarks were carried out this weekend when using Ubuntu 18.04 in its current development state with the packaged desktop components for GNOME Shell 3.26.2, KDE Plasma 5.11.4, Xfce 4.12, Unity 7.5, and LXDE. The Ubuntu 18.04 development snapshot was upgraded to using the Linux 4.15 Git kernel (for official Intel Coffee Lake graphics support) and Mesa 17.4-dev via the Oibaf PPA. KDE Plasma on Wayland wasn't tested since when installing the Plasma Wayland session package on Bionic it would crash right away when trying to log-in.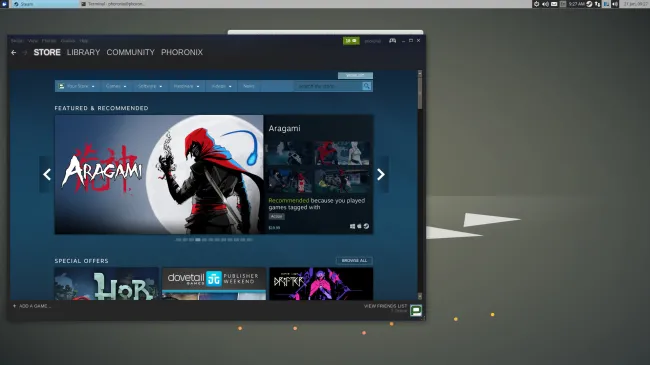 The hardware used for testing was an Intel Core i5 8400 processor. As a refresher, the i5-8400 has UHD Graphics 630 and is a six-core processor with 2.8GHz base frequency and 4.0GHz turbo frequency. Each desktop environment was tested in its out-of-the-box configuration as found currently in the Ubuntu Bionic repository.
More tests will come as the Ubuntu 18.04 LTS release approaches in April. This round of testing was done to satisfy a new Phoronix Premium member's request:
In December you had this article about Intel GPU performance, which many/most of us actually use in daily life.

There was a huge gap in performance between Ubuntu, Clear Linux and Windows 10 for the heavy Unigine benchmarks. I personally wondered how much of that difference still lie in desktop environments, especially gnome wayland, because that's what I'm seeing on my personal machine (the difference between gnome X11 and gnome wayland in some vram-extencive games is huge). I suspect the extra copies necessary in gnome-wayland due to the missing usage of hardware planes having a big impact here.

So what I would like to see is a comparison between gnome-X11, gnome-wayland, xfce and possibly kde (in x11 and wayland) on Intel UHD, especially with benchmarks that stress the vram a lot (like the unigine benchmarks, but also Tomb Raider or something like that). All on the same distribution, so ubuntu or fedora I guess.
Besides premium members getting ad-free access to the site, multi-page articles on a single page, one of the other extra benefits is a priority feedback channel to me for future test requests, etc. So consider
joining Phoronix Premium
to support these operations.