Btrfs RAID 0/1 Benchmarks On The Linux 4.1 Kernel
With the Linux 4.1 kernel coming together nicely I've begun my testing (separate from all the fully-automated Git testing done each day via the LinuxBenchmarking.com systems) of this new kernel under a variety of different workloads, stressing different systems, and focusing on the changes in the major subsystems. One of the systems this week has been running some fresh Btrfs RAID Linux file-system benchmarks. From an eight-disk server I've started this Btrfs RAID testing as some fresh numbers since my Btrfs RAID tests from a few months back on an older server.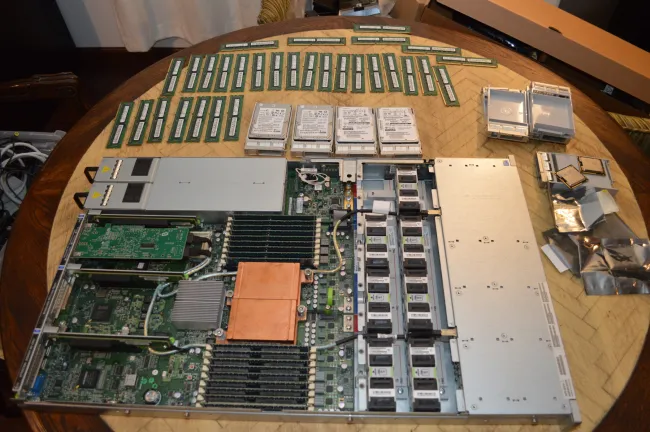 In this first Linux 4.1 disk testing article I was using a Oracle Sun Fire server with dual Intel Xeon E5540 processors plus two ST914603SSUN146G 10K SAS 146GB drives and six H106030SDSUN300G drives. The H106030SDSUN300G SAS drives are each 300GB in size and spin at 10K RPM. These six Hitachi SAS drives are what's being tested with Btrfs. In this article what I've completed so far is Btrfs on a single drive, Btrfs on two of the drives and testing both RAID 0 and RAID 1, and then Btrfs on four of the drives with both RAID 0 and RAID 1. There will be RAID 5, RAID 6, and RAID 10 benchmarks done from the six SAS drives in this server with Linux 4.1, but those results aren't simply ready yet. When that testing is done in the next few days I'll publish the rest of these Btrfs RAID numbers from the brand new kernel. These numbers today are basically being published for reference purposes.
Ubuntu 15.04 x86_64 was the host operating system on this server while I had manually fetched the latest Linux Git kernel as of last week. A variety of disk workloads were benchmarked using the open-source Phoronix Test Suite benchmarking software.