Show Your Support: Did you know that the hundreds of articles written on Phoronix each month are mostly authored by one individual? Phoronix.com doesn't have a whole news room with unlimited resources and relies upon people reading our content without blocking ads and alternatively by people subscribing to Phoronix Premium for our ad-free service with other extra features.
Corsair Flash Voyager GT 8GB
Last month we had reviewed the Corsair Survivor GT and found it to be one amazing flash drive. This flash drive offered an 8GB capacity backed by blazing speeds, but if that wasn't enough, the drive was indestructible. We had tossed the Survivor GT into a pool, whacked it with a hammer, and even boiled it in a pot of water, but none of these actions had killed or even damaged the drive. Today we are back with another flash drive review from Corsair but this time around, it's the Flash Voyager GT, or the step-up from the Corsair Flash Voyager.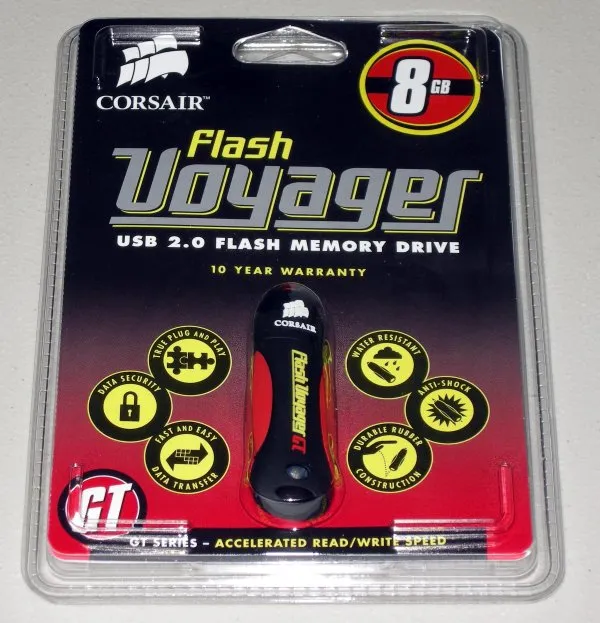 Features & Contents:
The Corsair Flash Voyager GT offers True Crypt security, Microsoft ReadyBoost compatibility, and is backed by a ten year limited warranty. While the Flash Voyager selection ranges from 256MB to 16GB, the Flash Voyager GT comes in 2GB, 4GB, and 8GB models. Where as the Flash Voyager is built for durability and price for performance, the Flash Voyager GT is designed to be durable while being built for speed. Included with the Corsair Flash Voyager GT 8GB that we are reviewing today was a Corsair lanyard and USB extension cable.