Abit AW9D i975X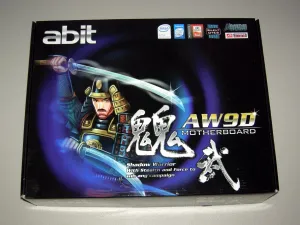 One of the questions that is routinely asked to Phoronix editors is about the best or our favorite motherboards. While this is a very open-ended question, one of our favorite motherboards over the years without a doubt has been the Abit IC7-MAX3. The IC7-MAX3 was engineered with the i875P and ICH5R Chipset, but more importantly it offered a wealth of Abit innovations. This motherboard was the first to feature OTES (Outside Thermal Exhaust System) Cooling Technology, which Abit has revised over time and they continue to use OTES derivatives with a number of products. Competitors have also developed their own OTES-like solutions as a result. The IC7-MAX3 was also very well designed and its layout was phenomenal for its time. Last but not least, this motherboard was one hell of an overclocker with the Canterwood Chipset. This Intel motherboard was flying high at the same time as the Abit NF7-S and NF7-S v2.0. Since 2003 and 2004, Abit has lost some of its glory due to fierce competition from DFI and ASUS, and running into some serious financial troubles. Fortunately, Abit had corrected its course earlier this year after they had announced their acquisition by USI.
Among the Abit motherboards we had tried out recently were the AW8, AW8-MAX, and KN9 Ultra. These motherboards were very well engineered, while still it didn't seem to pack a likewise punch of the IC7-MAX3. This afternoon we have our hands on the Abit AW9D, which is the replacement for the AW8 series, but will it be successful in reincarnating Universal Abit to its glorious past?
Features:
Processor
· Designed for Intel LGA775 processors with 1066/800MHz FSB
· Supports Intel Core 2 Duo & Pentium Extreme Edition & Pentium D & Pentium 4 Processors
· Supports Intel Hyper-Threading / XD-bit / EM64T / EIST Technology / Virtualization Technology
· Intel Quad Core ready.
Chipset
· Intel 975X / Intel ICH7R Express Chipset.
Memory
· 4 x 240-pin DIMM sockets support max. memory capacity 8GB
· Supports Dual channel DDR2 800/667 Un-buffered / Non-ECC memory
Graphics
· Supports Dual PCI-Express X16 slots (dual ATI CrossFire Graphics)
LAN
· On-board PCI-E Gigabit LAN controller supports 10/100/1000M Ethernet
Audio
· Abit AudioMAX HD 7.1 CH.
· Supports Jack Sensing and S/PDIF In/Out
· Dolby Master Studio Certificated
Serial ATA
· ICH7R: 4 x SATA 3Gb/s supports Intel Matrix Storage SATA RAID 0/1/0+1/5
· Support SATA AHCI, providing native command queuing and native hot plug
Abit Engineered
· Abit uGuru Technology
· Abit AudioMAX HD 7.1 CH
· Abit OTES Technology
· Quick Power & Reset Buttons
· Low ESR and high ripple conductive polymer aluminum solid capacitors
Form Factor
· ATX form factor 305 x 245mm
· PCB Color: Black
Contents:
While Abit has gone through massive changes over the years, one of the areas that has remained virtually unchanged is the packaging. Abit's packaging has always been top-notch, and they continue this trend with the AW9D. The accessories for the motherboard are packaged in two smaller cardboard containers, while the motherboard is safely housed beneath these boxes. Among the contents were a quick installation guide, driver CD, uGuru user's manual, motherboard user's manual, jumper sheet, SATA cables, SLI bridge, and AudioMAX audio card.