We Rely On Your Support: If you would like to support Phoronix this holiday season, you can enjoy our Black Friday / Thanksgiving sale... Phoronix Premium is available at a discounted rate for the rest of November. Learn more with the The 2020 US Thanksgiving / Black Friday Phoronix Premium Special. Happy Holidays!
The Ryzen 5 2600X & Ryzen 7 2700X - Coming Soon To Linux Desktops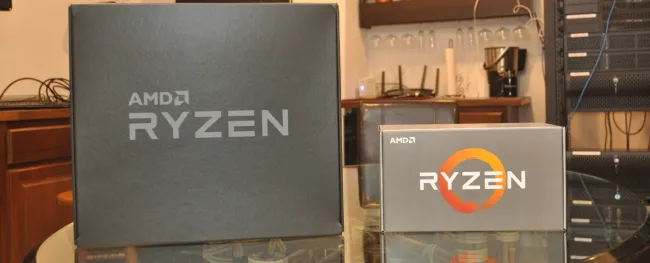 You may have heard that next week is the AMD 2000 series Ryzen CPU launch. That's indeed accurate while today is just a meet and greet with these new Ryzen processors.
AMD's embargo expired today on the "unboxing content" for these second-generation Ryzen processors launching next week. Unfortunately we can't talk performance yet but can just show the products -- sans being plugged in / powered on -- and discuss the model numbers for these "Pinnacle Ridge" processors.
Succeeding the Ryzen 7 1800X is the new Ryzen 7 2700X processor. As shown on the box, the Ryzen 7 2700X is an eight core / sixteen thread processor with a base clock of 3.7GHz and a boost clock of 4.3GHz. This CPU has a 105 Watt TDP, 512KB L2 cache per core, and a shared 16MB L3 cache.
The Ryzen 7 2700X features the company's new Wraith Prism heatsink fan with RGB lighting. The Wraith Prism should be plenty capable of cooling this 105 Watt TDP processor.
Both of these new Ryzen 7 2600/2700 series parts feature native dual-channel DDR4-2933MHz support, an upgrade from DDR4-2667 with the Ryzen 1000 series. There are around 4.8 billion transistors with these new AMD desktop processors and manufactured on GlobalFoundries' 12LP process.