Universal 3.3V VDIMM Mod Guide
In this guide, we will share with you how to perform a very simple Vdimm mod. Please note: Phoronix and its staff take no responsibility for any damage or harm that can potentially occur from performing this mod. By default, conventional DDR SDRAM operates at 2.5V. Most motherboards max out the Vdimm voltage at 2.9V. Abit's AN7 and high-end DFI motherboards are just a few of the exceptions. However, most RAM modules can withstand voltages over 3.5V. To find out if your RAM can withstand such high voltages, simply visit the RAM chip manufacturer's site and look up the datasheet of the particular chip you are using. The two most popular RAM chips at the moment are Winbond BH-5 and Hynix D43. Although Winbond has discontinued its memory lineup, BH-5 is still 'the best'. Hynix D43 is known for high FSB overclocks, while Winbond BH-5 is known for it's tight timings at highs speeds and high voltages. We searched for Winbond BH-5 and Hynix D43 datasheets to find out if our BH-5 ram was suitable for this mod. Here are extracts from the datasheets: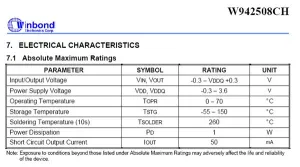 Both RAM types have maximum ratings of 3.6V which means, 3.3V is safe. The modification will work on almost any motherboard. In this guide we are using an Abit NF7-S. We have also seen it working on an ASUS P4P800-DLX and EPOX 4PDAI.
Method:
The beauty of this mod is that all we need to do is connect the 3.3V rail to the VDD of one ram slot, which will be shared among all DIMM slots. This is the hard part. You must solder a wire to the fine VDD pin of the DIMM slot. This requires good soldering skills and a lot of patience.
To connect the 3.3V rail to the VDD pin, simply cut a piece of wire (almost any type of wire will do) and make sure it is long enough to connect the two pins. To locate the 3.3V solder blob of the ATX connector, take a look at your ATX connector and locate the orange wires.
On first boot after the modification, take a look in the bios to check the vdimm voltage. To measure your vdimm by multimeter, just connect a multimeter probe in the 3.3V connector in your ATX connector or measure pin 7 of the DIMM. To do this locate pin 7 on any DIMM-socket, take a very closer view of socket and find pin 1. Pin one is usually marked in some way. When you find the pin count up the adjacent pins until you get to the seventh pin.
Conclusion:
Before this mod, the max stable overclock was 229 2.9Vdimm 2-2-2-11. After this mod, we've been able to run memtest fully stable at 245MHz 2-2-2-11 (BH-5 RAM). 250MHz is possible, but our poor nForce chipset is maxed out. We know our chipset is maxing at 250 because even if we loosen the ram timings to 2.5-3-3-11 the memtest still gives us errors.