VIA Joins The Open Driver Bandwagon
Announced this morning at the second annual Linux Foundation Collaboration Summit is a new open-source driver development initiative. VIA Technologies has announced its strategic open-source driver development initiative. VIA will be providing technical specifications, source-code, and other information regarding their latest products. In addition, they'll be opening a new web-site devoted to its new Linux efforts.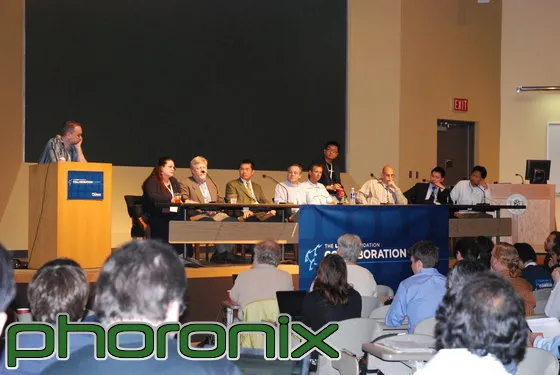 VIA's initial open-source push is occurring for their VIA CN700, CX700/M, CN896, and the new VIA VX800 chipsets. Topping off their open-source kindness, VIA will be providing enabling the open-source community to provide 2D, 3D, and video playback acceleration using its integrated graphics processors.
Their new Linux website is linux.via.com.tw/, but this page won't be live until later this month.
VIA's commitment to Linux and the open-source community isn't a one night stand either, but according to VIA they will implement a quarterly release schedule of its new Linux offerings that align with kernel and distribution refreshes.
At the Linux Foundation Collaboration Summit, VIA's Timothy Chen commented that they kick-started their open-source efforts after seeing Intel's open-source involvement especially with their Moblin project. What else is next for VIA? Perhaps knowledge base software?
VIA is just the latest hardware company better enabling the Linux and open-source communities by providing technical documentation on their products and supporting an open-source driver. This bandwagon for the past few months has really been led by Intel with their complete 965/G35 documentation (on top of their long-standing support of various open-source projects and drivers) and AMD who has been releasing documentation left and right in supporting two open-source graphics drivers. Creative Labs has also turned more open-source friendly with their once notorious X-Fi series. NVIDIA, it's now your turn to show your strategy as we've been exclusively reporting for the past few months.
If you enjoyed this article consider joining Phoronix Premium to view this site ad-free, multi-page articles on a single page, and other benefits. PayPal or Stripe tips are also graciously accepted. Thanks for your support.