We Rely On Your Support: Did you know that you can get Phoronix Premium for under $3 per month? Try it today to view our site

ad-free, multi-page articles on a single page, and more

while the proceeds allow us to write more Linux hardware reviews.
Razer Blade Stealth Laptop On Linux, Various Linux Laptop Performance Metrics
Earlier this year Razer co-founder and CEO Min-Liang Tan announced that Razer is planning better laptop support on Linux. He noted that more customers are requesting Linux support and they formed a goal of figuring out how to make "the best notebook in the world that supports Linux." Razer doesn't have any Linux laptop announcement to make yet, but for seeing the current state of affairs, they sent over the Razer Stealth laptop so we could put it through our Linux testing paces at Phoronix. Here is a look at the Razer Stealth ultrabook on Linux as well as a variety of interesting performance metrics, including some power metrics compared to Windows.
Since the announcement earlier this year, I have been in contact about their Linux interest and intentions. They continue to evaluate options for improving Linux support on their Razer laptops and are aware of the current shortcomings as well when trying to use (and configure) Razer gaming mice/keyboards/peripherals under Linux. It's too early to tell how things will play out, but I am very optimistic about Razer's possibilities for advancing their Linux support across their product lines. It could make for an interesting 2018 if Razer decides to go ahead with better Linux support and finally having a go-to Linux laptop from a major vendor besides the Dell XPS from the Sputnik project or the rebranded/smaller-volume vendors like System76, ZaReason, and Purism.
The first Linux laptop I decided to look at today is the Razer Blade Stealth, given its focus on low-power/long battery life and what could be a good MacBook Air equivalent for Linux users. The Stealth laptop I received for testing is equipped with an Intel Core i5 7500U (Kabylake) processor with HD Graphics 620, 16GB of RAM, 256GB Samsung SSD, and 2560x1440 display.
I haven't been able to find the exact configuration of this laptop from the major Internet retailers available. But for $1399, the Razer Blade Stealth is available with a Core i7 Kabylake CPU, 13.3-inch display, 256GB SSD, and a 3200x1800 display. There's also a similar Stealth model with 4K touchscreen display for $1559. Unfortunately, at least in the US, the Dell XPS 13 Developer Edition with Linux is no longer available from Dell.com for a price comparison on that side. From System76 they do offer a Galago Pro 7500U + 16GB RAM + 250GB NVMe + 1 year warranty model for about $1394 USD. Granted, System76 isn't yet on to designing their own complete laptops yet. From Purism, their Librem 13 with 16GB RAM, 250GB SSD, and an older Skylake Core i5 CPU would cost $1856 USD.
The Razer Stealth 13.3-inch laptop weighs just 2.93 lbs (1.32 kg) and at with their QHD+ display under Windows at least advertises a nine hour battery life while it can be extended to 15 hours with the Razer Power Bank.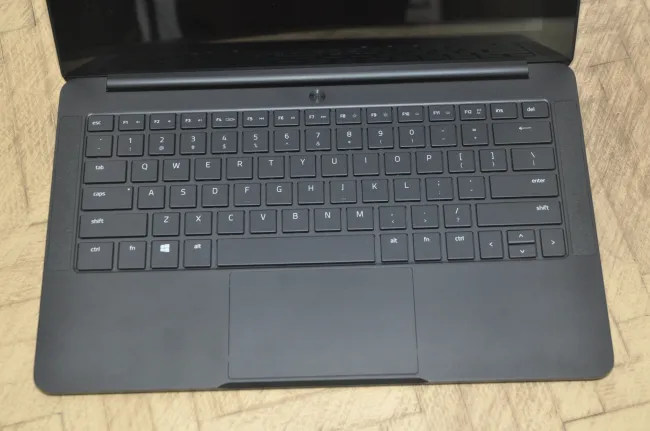 This Razer Stealth laptop simply features a USB-C / Thunderbolt power also used for charging, two USB 3.0 ports, an audio jack, and an HDMI 2.0 port. There isn't any card reader slots, etc.
I have been testing out the Razer Blade Stealth for about the past two weeks and overall am happy with it as a lightweight laptop that aside from a few issues was working out fine under Linux on popular distributions.