Show Your Support: Did you know that the hundreds of articles written on Phoronix each month are mostly authored by one individual? Phoronix.com doesn't have a whole news room with unlimited resources and relies upon people reading our content without blocking ads and alternatively by people subscribing to Phoronix Premium for our ad-free service with other extra features.
NVIDIA 2013 Linux Graphics Driver Year-In-Review
For the ninth year in a row I am issuing year-in-review articles concerning the state of NVIDIA's (and separately, AMD Catalyst) Linux graphics driver and the accomplishments the driver's made in the past calendar year along with benchmarks of all notable driver releases this year. NVIDIA's made a lot of progress on the Linux front this year, especially for any Linux gaming stakeholder, so let's get started on our 2013 NVIDIA Linux Year-In-Review.
NVIDIA's 2013 Linux driver release cycle began in mid-January with the release of the very feature rich 313.18 driver. The 313.18 driver brought new hardware support (GeForce GTX 680MX and the Tesla K20Xm), various fixes, new GLX protocol extensions, support for the important GLX_EXT_buffer_age, updated HDMI 3D support, X.Org Server 1.14 support, and improved performance for certain situations. The 313.18 release was certainly a nice way to start 2013 for NVIDIA Linux users! With the 313.18 release having been an early 313.xx version, a few days later they had put out the 310.32 driver that back-ported some of the stable, less-exciting changes.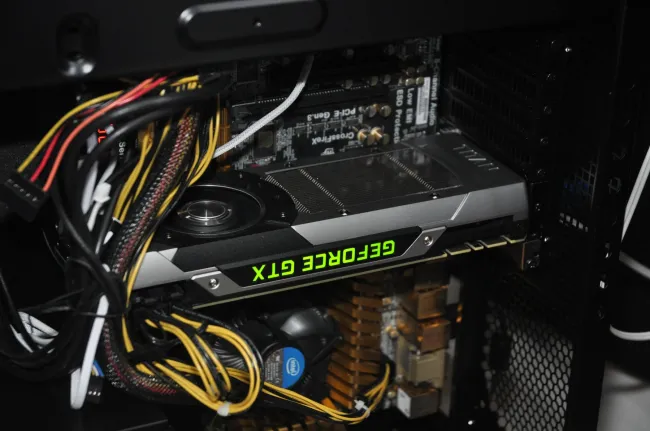 The NVIDIA 313.26 driver was the next major release in early March and it brought support for the super high-end GeForce GTX TITAN graphics card that had been released in the days prior. I finally got ahold of a GK110 TITAN some weeks ago and its Linux performance has been amazing and right on par with the Windows level of performance.
Next up worth noting was on the 2nd of April they had to issue updates to their 304, 310, and 313 driver series for addressing a security vulnerability. One week later was the first NVIDIA 319 Linux beta (319.12 Beta) that brought many improvements. Besides adding in support for the GeForce GTX 650 Ti BOOST and fixing some bugs, the 319 series brought support for restoration of EFI frame-buffer consoles, new xorg.conf configuration options, support for application problems to the NVIDIA client-side GLX, support for signing the NVIDIA kernel module, and of huge importance was the initial RandR 1.3/1.4 support. The Resize and Rotate extension v1.3/1.4 support brought standardization to its panning support, the ability to use RandR 1.4 provider objects for some level of "Optimus" support or passing rendered objects to a different display for output, and other highlights. This release also brought performance improvements for certain workloads and various other improvements. The NVIDIA 319 Linux driver series was easily one of the most important NVIDIA driver updates in the past year or two.
The NVIDIA 319.17 Linux driver arrived in early May to stabilize the 319 betas. Besides the heavy features the 319 series brought earlier, the 319.17 update featured support for the GeForce GT 720M, GeForce GT 735M, GeForce GT 740M, GeForce GT 745M, and GeForce GT 750M. In addition, other random work was merged into this release.
Less than one month after the 319.17 driver release, NVIDIA put out the 319.23 Linux driver. That NVIDIA 319.xx driver brought support for the GeForce GTX 770 and GTX 680 graphics cards, support for HDMI 4K resolutions, support for VDPAU video acceleration at 4K resolutions, and a handful of bug/regression fixes.