Show Your Support: This site is primarily supported by advertisements. Ads are what have allowed this site to be maintained on a daily basis for the past 18+ years. We do our best to ensure only clean, relevant ads are shown, when any nasty ads are detected, we work to remove them ASAP. If you would like to view the site without ads while still supporting our work, please consider our ad-free Phoronix Premium.
GNOME Shell Wayland Benchmarks From Fedora 20
While an X.Org Server is still used by default on Fedora 20 "Heisenbug", Wayland has become a viable option for early adopters and developers wishing to work on Wayland software compatibility and/or testing. All the packages are needed on a Fedora 20 installation to launch a GNOME Wayland session and begin working, including support for XWayland in order to run X11-dependent games and applications.
Aside from my recent Fedora 19 vs. Fedora 20 benchmarks, earlier this month I carried out some new performance benchmarks comparing GNOME Shell on X.Org Server 1.14 by default in Fedora 20 x86_64 to that of running OpenGL and 2D benchmarks within GNOME Shell on Wayland. It's very easy to try GNOME Shell Wayland on Fedora 20 as explained in that article.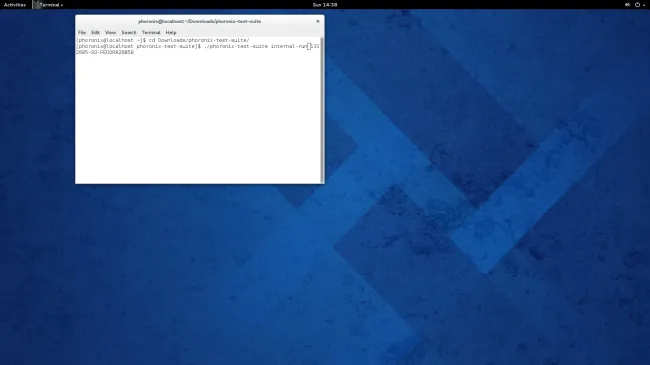 When using Intel "Haswell" HD Graphics on the Fedora 20 stack with GNOME Shell 3.10.2.1 with X.Org Server 1.14.4, Mesa 9.2.3, and xf86-video-intel 2.21.15 (along with the slew of other F20 packages, near-final at the time the testing commenced), the experience was very smooth. Early on in my Fedora 20 Wayland testing I found the compatibility and performance to be mixed. At first with GNOME 3.10 on Wayland there were common segmentation faults in Mutter and other issues, but those issues weren't experienced in this most recent round of testing.
We won't see GNOME Shell on Wayland by default until Fedora 21, but perhaps Fedora 22 or later depending upon how mature GNOME 3.12 becomes for the X.Org alternative. For details on the current GNOME Wayland work that's happening over the next few months, visit the GNOME.org Wiki. Among the items planned for GNOME 3.12 include the ability to launch Wayland sessions from the GDM log-in manager, global keyboard shortcuts, better performance, better touchpad support, drag-and-drop support, and supporting other Wayland functionality like sub-surfaces.
On the following pages are our new benchmarks comparing the "out of the box" GNOME Shell desktop on Fedora 20 to running a GNOME Wayland session using the Lini PC. All benchmarking was handled via the Phoronix Test Suite.