Taking A Hit With ATI Graphics In Fedora 13 Beta
With the release of Fedora 13 Beta earlier this week we have been testing out this Red Hat update on a few of our test systems. One area of interest to us has been to see how the open-source graphics are performing with Fedora 13, since after all Red Hat is known to always ship the very latest DRM/Mesa/DDX bits in Fedora due to all of their upstream involvement and this week is also the Fedora 13 Graphics Test Week. We already looked at the direction of Intel graphics with Fedora 13, so our next target was testing out the open-source ATI graphics with this Linux desktop release that is codenamed Goddard. In this article, we have ATI R500 tests using their open-source driver stack as we test out the OpenGL performance and the power consumption, compared to Fedora 12.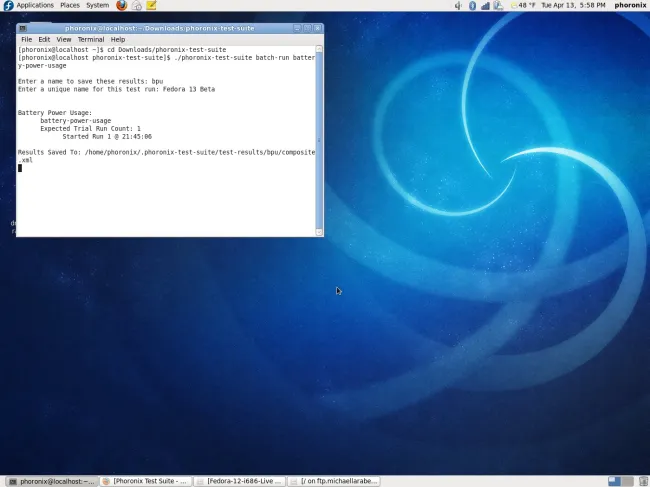 For this brief round of Fedora 13 Beta testing, a Lenovo ThinkPad T60 notebook was used. This older notebook boasts an Intel Core Duo T2400 (1.83GHz dual-core clock speed) processor, 1GB of system memory, an 80GB Hitachi HTS541080G9SA00, and an ATI Mobility Radeon X1400 128MB graphics processor. As far as package versions go, Fedora 12 by default used the Linux 2.6.31.5-127.fc12.i686 kernel, GNOME 2.28.1 desktop, X.Org Server 1.7.1, X.Org Server 1.7.1, xf86-video-ati 6.12.99, and Mesa 7.7.1-devel. Our Fedora 13 Beta setup was using the Linux 2.6.33.1-24.fc13.i686 kernel, GNOME 2.30.0, X.Org Server 1.8.0, xf86-video-ati 6.13.0, and Mesa 7.8-devel. Fedora 12 and Fedora 13 Beta were left in their stock configurations.
For this quick round of ATI R500 open-source testing on Fedora we ran OpenArena, World of Padman, Urban Terror, and Tremulous via the Phoronix Test Suite.