CompuLab Trim-Slice: Dual-Core ARM Tegra 2 Desktop
Like the Fit-PC2, the Trim-Slice chassis is composed of aluminum for heat transfer. The metal case measures in at just 130 x 95 x 15 mm. The complete system pulls just between two and six Watts from the +12V DC power adapter.
The Trim-Slice is based on the NVIDIA Tegra 2 with a dual-core ARM Cortex-A9 clocked at 1.0GHz. There is 1GB of DDR2 RAM and included with this review sample from CompuLab was a 250GB SATA HDD. The Serial ATA support is provided by a USB adapter. There is also SDHC/micro-SD storage support for another storage medium. For network connectivity, there is a Gigabit Ethernet port, the USB-based Bluetooth, and 802.11n WiFi.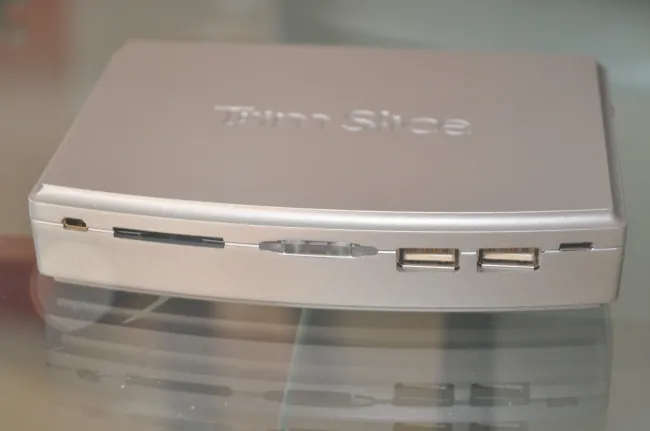 On the front of the Trim-Slice is an RS232 port via the included cable, an SD card slot (supporting SDHC up to 32GB of storage), the on/off switch/LED, two USB 2.0 ports, and a micro USB port. On one side is a Kensington lock slot while on the other is also the micro-SD port.
At the rear of the ARMv7-powered desktop is the 802.11n WiFi antenna connection, two more USB 2.0 ports, S/PDIF line-in, the +12V DC power connection, line-out/video-in, Gigabit Ethernet, and two HDMI (HDMI/DVI-D) ports. The HDMI 1.3a port supports 1080p (1920 x 1080) while the DVI-D port can handle resolutions up to 1680 x 1050. Audio over HDMI is supported.